07 / 11 / 2018
First Impressions of WordPress 5 and the Gutenberg Editor
Author
Category
Share
WordPress 5.0 will ship on November 19, 2018, and brings with it one of the biggest changes we have seen in a long time with the introduction of the Gutenberg editor. We decided to preview the new changes and take a look at what this means for the future of WordPress.
WordPress was released in 2003 and has grown to be one of the most popular content management systems and is claimed to be used on over 60 million websites. This popularity is predominantly as a result of its low barrier to entry and strong community. But the new updates introduced in 5.0 have already begun to divide the WordPress community.
What is Gutenberg?
Gutenberg is the name given to the new editor that will ship with WordPress. If you are familiar with WordPress you will recognise an interface that has remained consistent throughout the history of WordPress. Gutenberg is a replacement for the traditional form fields that usually populate a WordPress admin screen.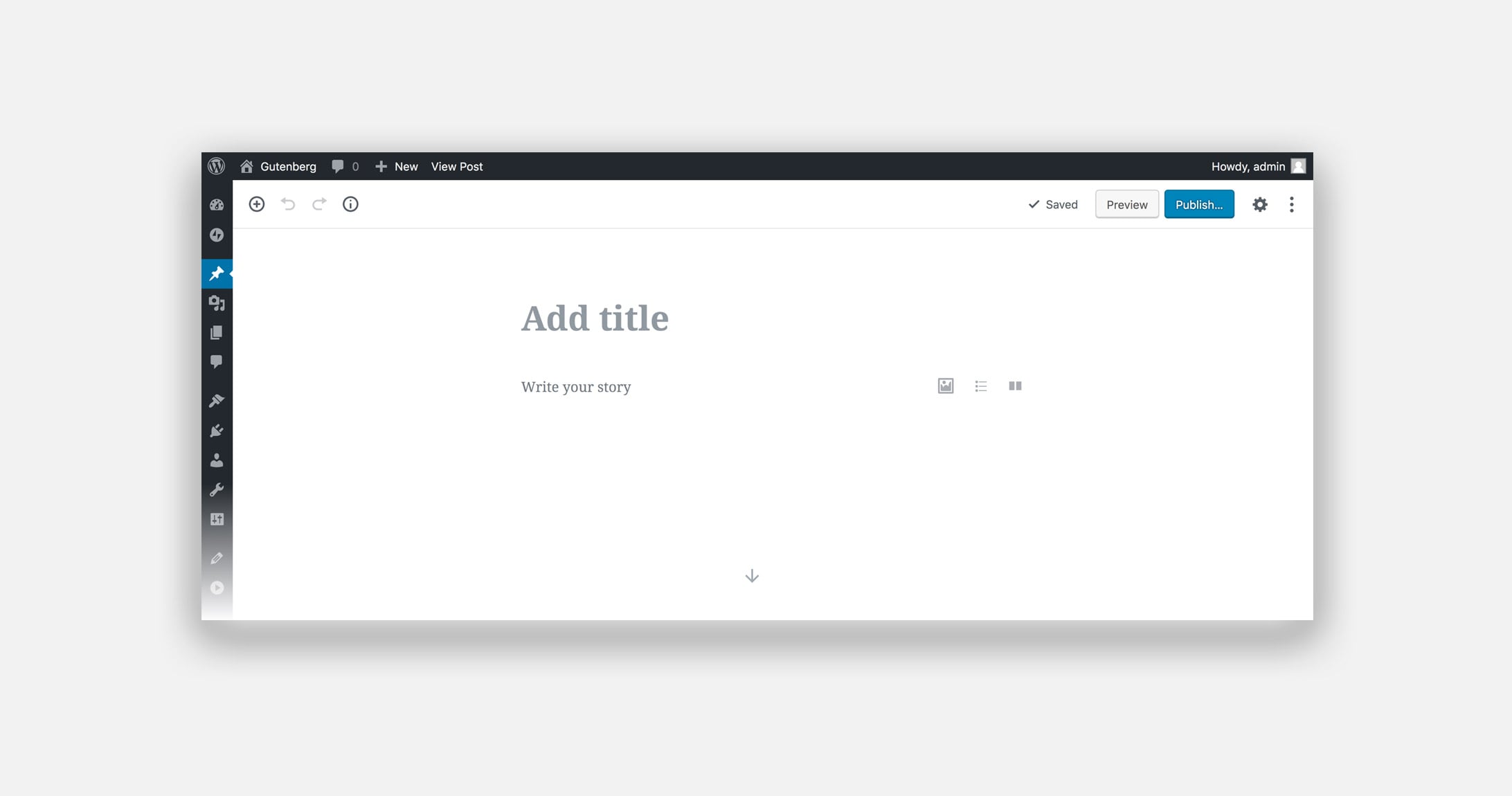 Gutenberg redefines the page content as a series of "blocks". These "blocks" identify different areas of the page. The editor is definitely more visual and interactive and you could argue that it mirrors the page better and gives a better WYSIWYG experience.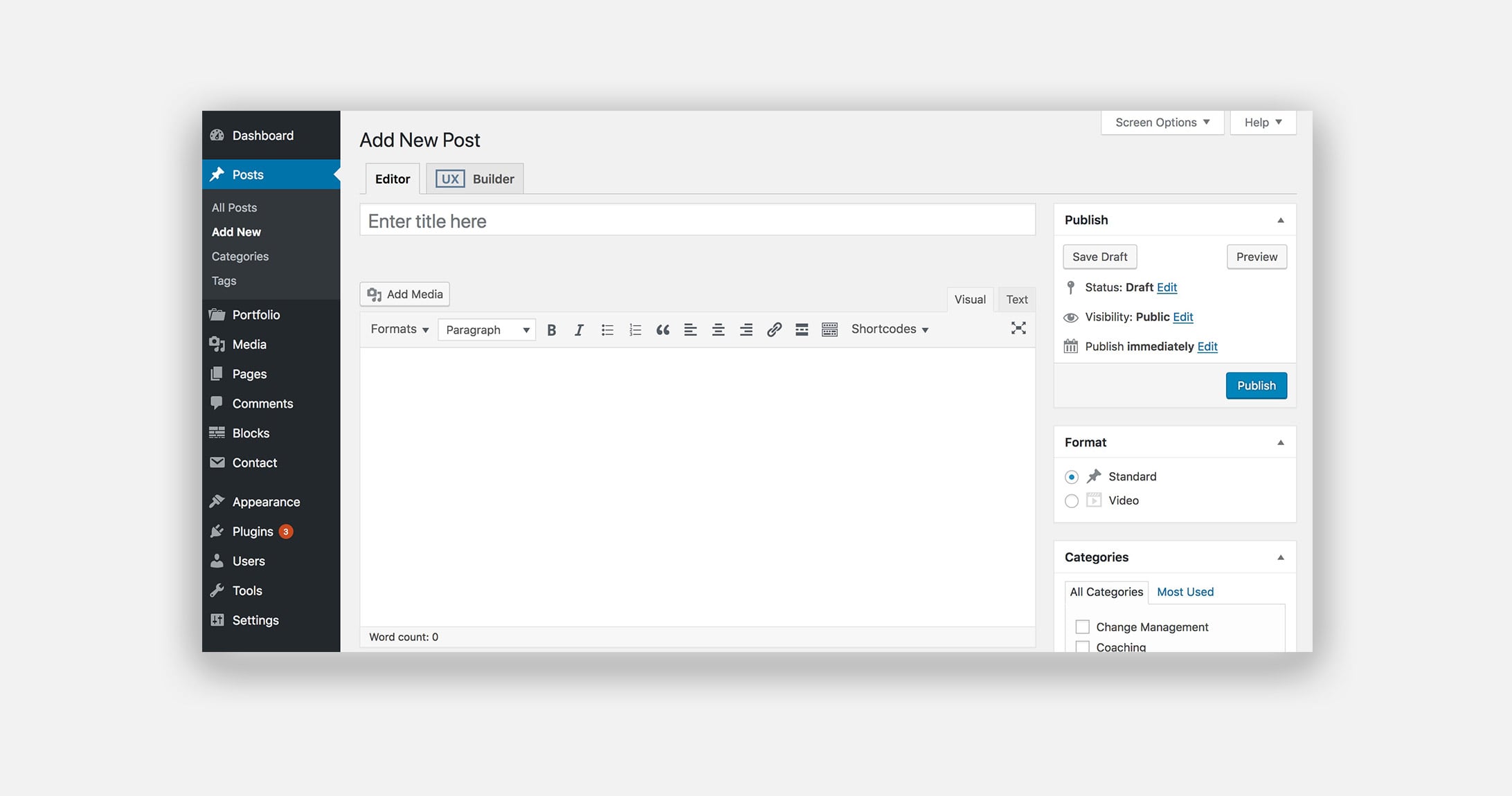 Is it any good?
The new editor is technically very impressive. It uses the React javascript library to give it a very responsive, app-like feel. When we tried it out we found it similar to the content editors you might find in modern web applications such as Medium, Evernote and Dropbox Paper. It also does a good job of staying out of your way, allowing for a clean editing experience whilst maintaining a good toolset.
If you are a seasoned WordPress administrator then this is a huge departure from the current editor. There are countless plugins out there that work in a similar way. If you have ever worked with a custom theme, you may have encountered these alternative administration experiences in one form or another. If you are used to using modern web applications such as Evernote and Google Docs you may find Gutenberg a big improvement, and its interface quite intuitive.
I don't believe that the new editor moves WordPress any closer to the enterprise level CMS that people have been crying out for. If anything we are seeing a shift more towards site-building web applications such as Wix and Squarespace, which is not really surprising considering these are now rival platforms to the hosted WordPress offered by WordPress.com.
At Absolute we have been developing and launching projects on our own CMS solution Absolute Control, so we know first hand the pains of building a CMS that delivers all things to all people! One of the major drivers for us to build this was that we found WordPress too restrictive both for us and our clients. Most WordPress websites we encounter use sophisticated themes and plugins such as Advanced Custom Fields to bring more editing capabilities to WordPress. At Absolute we've found that working with structured data types (i.e. content types with defined relationships) is something that we like to separate from layout or presentation tools, this is one of the underlying concepts in Absolute Control. With Gutenberg we are seeing a tighter coupling between layout controls and data, it's a definite shift to the current design patterns we see using custom fields.
Security
Security has been a major issue for WordPress. Given the vast number of WordPress installations, it stands to reason that it's a popular target. However, there are definite shortcomings in the way WordPress is built. WordPress has a large, outdated underlying core with years of technical debt. The PHP language that WordPress is built with has long since evolved from the style of coding used in the WordPress codebase, but WordPress has chosen to maintain its long outdated core to ensure that users have minimal issues with backwards compatibility.
WordPress 5.0 can be run on PHP 5.2.4. This release of PHP reached end of life in January 2011. This means that the PHP community are no longer under obligation to patch any security issues. This makes any data you have on your server immediately vulnerable to data breaches. It's seen as a failing that WordPress is not doing more to get people on to more stable, well-supported versions of PHP. Considering PHP 7.0 reaches end of life on December 3rd, anything lower than PHP 7.1 should be considered unsupported and therefore vulnerable.
We are a bit disappointed that WordPress didn't take this opportunity to take a step forward and raise this minimum requirement and make WordPress easier to develop with. Absolute Control was built as a modern, future-facing web application and this is why we chose Laravel as the underpinning framework. We're committed to producing modern, maintainable PHP solutions and for us, WordPress 5.0 isn't doing enough to live up to this in our opinion.
Preparing for Wordpress 5.0
At Absolute, we already look after a number of WordPress websites for our clients. Some of these sites will have been built by using custom fields and meta boxes to give the user the ability to add all the data to their site in a predefined way. These are the kind of sites that will require additional work to adapt to the Gutenberg "block" editor. Here is how we are helping our clients prepare for WordPress 5.0.
Revert to the Classic Editor
The good news is that if you don't like the Gutenberg editor, you can revert back to the "Classic" WordPress editor. We would recommend doing this on any site developed pre-Gutenberg. As Gutenberg is so new, there is no way to tell how it will work with the various themes and plugins that have been installed. Some may update to support Gutenberg, others may not, and these varying levels of support are likely to remain for the foreseeable future.
Updating PHP
If possible take the opportunity to upgrade your PHP version to the latest (7.2). Particularly as PHP 7 approaches it's end-of-life soon and you might be exposed to unpatched security vulnerabilities.
Migration
We understand that the new developments in WordPress 5.0 might not be for everybody and that these developments might bring about significant changes in the WordPress community. And we are starting to see the emergence of alternative forks: such as ClassicPress. It might be a good time to migrate to another solution. We've worked on Absolute Control to resolve a lot of the issues that the WordPress community are currently facing, and changed the approach to constructing an application around the user's needs rather than constructing an application within the confines of a pre-built environment such as WordPress.
The future of WordPress
Time will tell if Gutenberg becomes fully adopted by WordPress community, or ultimately ends up dividing it. It's safe to say that WordPress is responding to the increased competition from hosted site building solutions such as Wix and Squarespace who offer similar visual page building tools and it's becoming clear that they are looking to enhance the WordPress.com hosted platform's offering.
The update is likely to impact most Agencies, Site Owners and Developers and steps will need to be taken to either embrace or avoid the move to Gutenberg. Concerns have been raised about the economic impact of the changes and the burden this places on theme and plugin developers as there seems to be no set roadmap for updating your WordPress website to 5.0.
While it's important for projects like WordPress to iterate and move forward, we feel that some audiences will still be left wanting by WordPress 5.0 and areas that should have been improved have been ignored. At Absolute, we look after many clients in a variety of different markets, but security, stability and ease-of-use are always important to us, and we built Absolute Control to help us meet these needs. It's encouraging to see innovation like this in WordPress, but I feel that in its current state, it fails to make the grade as an enterprise level CMS solution. And while there are many contenders, there has yet to emerge a clear winner for users who are looking to move away from the platform.