17 / 09 / 2021
Thinking caps on
Author
Category
Share
Why Universities need to work harder to achieve the desired results.
With the higher education market becoming increasingly competitive, the need for universities to create new narratives has never been greater. Universities now need to compete creatively, as well as academically. Many just don't know it yet. Those that do, have been quick to embrace the new reality. To see evidence of that, you only have to see how some of the leading universities are now working harder than ever to engage prospective recruits. If the leading academic institutions are doing it, there's a lesson there for all universities.
At Absolute, our experience in developing credible student recruitment campaigns and a portfolio of diverse and unique university websites and digital solutions gives us a unique insight into how, where and when to connect with this new and socially literate audience.
Cobwebs, complacency and celebrity alumni; how not to do it.
Any establishment that simply rests on its laurels will find itself in a very uncomfortable position when future applicant numbers are counted. Gone are the days when a university could simply dust off a heritage story and simply repackage it for the next academic year. Heritage is important, but on its own, is simply no longer enough of a story. And simply name-checking distinguished alumni may not be enough for prospective students to check out a university website.
To stand out, universities can no longer afford to stand idle; they need to work harder to communicate exactly what they stand for in a way that is real and relatable.


Re-evaluating the value of a university education.
With the average student graduating from English universities in 2020 with over £40K of student debt, many applicants are now starting to ask big questions of even the biggest and most respected establishments. And with more and more domestic students seriously considering whether taking the step to Uni is the best way to get on in life, universities need to think about how they connect and engage with all audiences local, national and increasingly, international.
The University of Yawnsville: How to attract Gen Z without the ZZZ's.
The ramifications of the pandemic are still resonating strongly in the Higher Education sector. So, when Gen Z are ready to select between uni A, B, C or D, you'd better be ready with a compelling narrative. Because in a rapidly shifting cultural, social and digital landscape, simply doing things in the predictable time-honoured way simply won't cut it. In the recent pandemic, the lack of face-to-face tuition for long periods of time, means that many universities are now being judged on the student experiences they deliver. To attract Gen Z applicants in successive lockdowns, forward-thinking universities have looked at new ways to intrigue, excite and engage applicants.
How Absolute helped two universities to create new narratives.
At Absolute, we believe that the move away from traditional marketing towards eye-catching digital and virtual events means that universities can no longer afford to creatively under deliver when it comes to targeting undergraduates.
In the international market, there's a world-weary cynicism out there for uni brands which target students in clumsy or clichéd ways. With memes and social interaction on the up and phone and email usage plummeting, the key is to provide the service your future students want and talk about the topics they care about - and do it all in a medium they prefer. Do that, and you'll achieve higher acquisition, conversion and overall satisfaction scores. Our success with two key case studies, illustrates the point.
York St. John University: Communicating brand difference with Absolute creativity and clarity.
York St. John: The Brand Refresh.
Living in the shadow of a larger university in their fair historic city, York St John needed a campaign which would create standout while building the foundations for future growth. For this major transformation of their brand tone of voice and positioning, they chose Absolute. Our relationship with York St. John began with a video launch, a new website and brand guidelines and grew organically from there, quickly evolving into the development of a vibrant new identity and student recruitment campaign.
For a complete brand rethink, their first thought was Absolute.
Very often, articulating a university vision both internally and externally in a way that is clear, concise and compelling is the key to dynamically improving student recruitment. The principle being, by speaking the language of students in a more intelligent way and involving them in the conversation they will become your best advocates.
Initially, we were commissioned to develop brand guidelines and an online digital toolkit to give colleagues across the university a clearer understanding of the creative vision and brand narrative. This supported the launch of a bold suite of new brand collateral designed to reinvigorate and re-energise the brand, from a new brand essence and design principles to tone of voice and downloadable assets.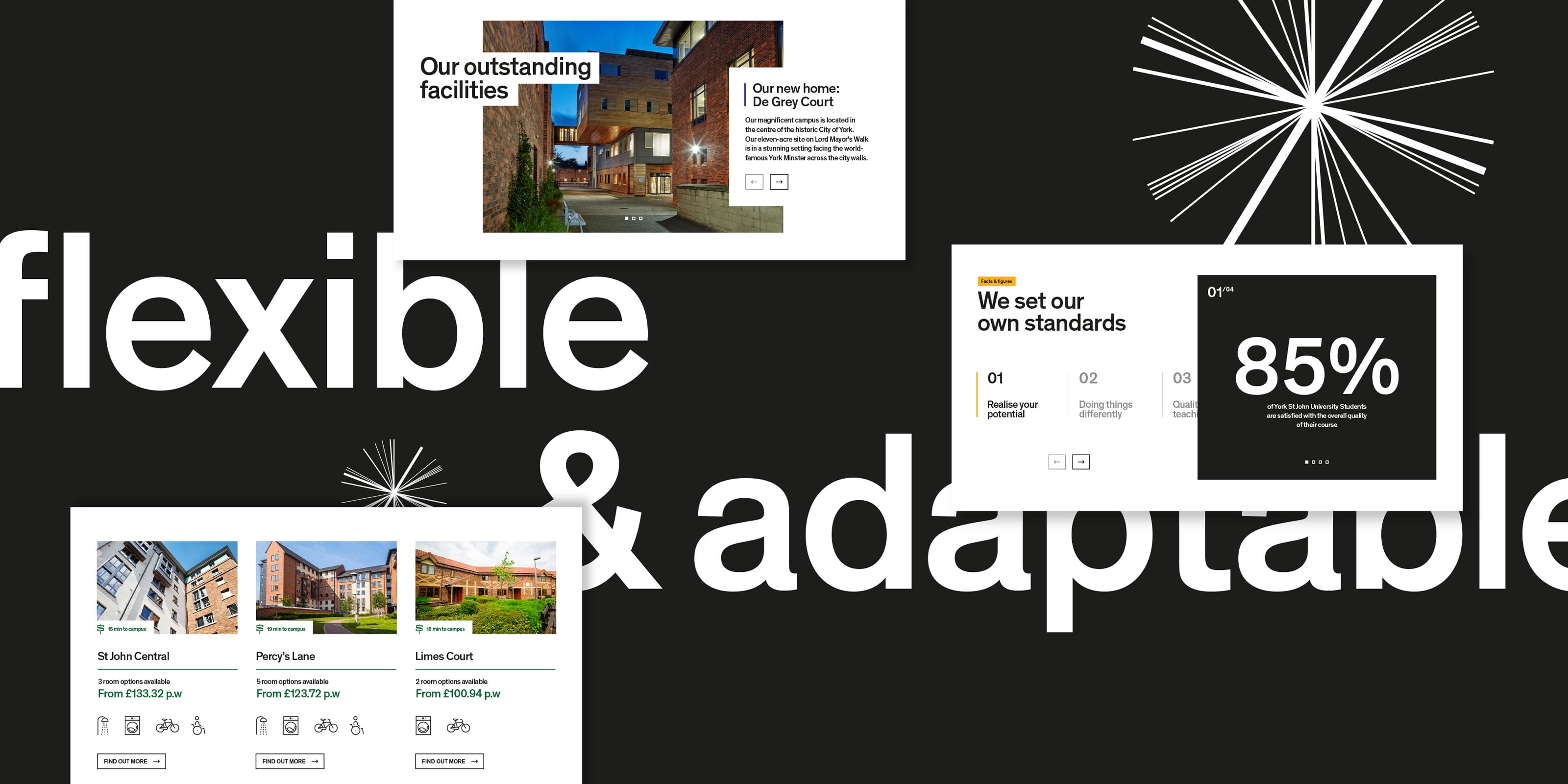 Communicating the bigger picture, via a smaller one.
Our articulation of the positioning 'Make the possible happen' was accompanied by a new essence video launch. Besides fulfilling its role as a big reveal for the new brand style and communicating a new vision for the university, the video also fulfilled its core objective of attracting a new all-inclusive type of audience.
Across a whole range of refreshed brand assets, we reflected a new creative direction, including the development of an Absolute Control Pattern library to differentiate the schools within the university and give each a unique visual identity. To complete the institution's digital transformation, this was followed by the launch of the new website.
York St. John: The Website.
As part of their 2026 strategy, York St John set themselves an ambitious challenge to change the expectations of what a university should look, feel and sound like – moving away from a traditional university to a brand which empowers every student that studies there.
So, no sooner had we developed the new brand messaging, new identity and creative assets to drive a substantial student recruitment push, than we started work on a visually stunning and future-focused website which went on to win Gold for Best Website at The Heist Awards 2020.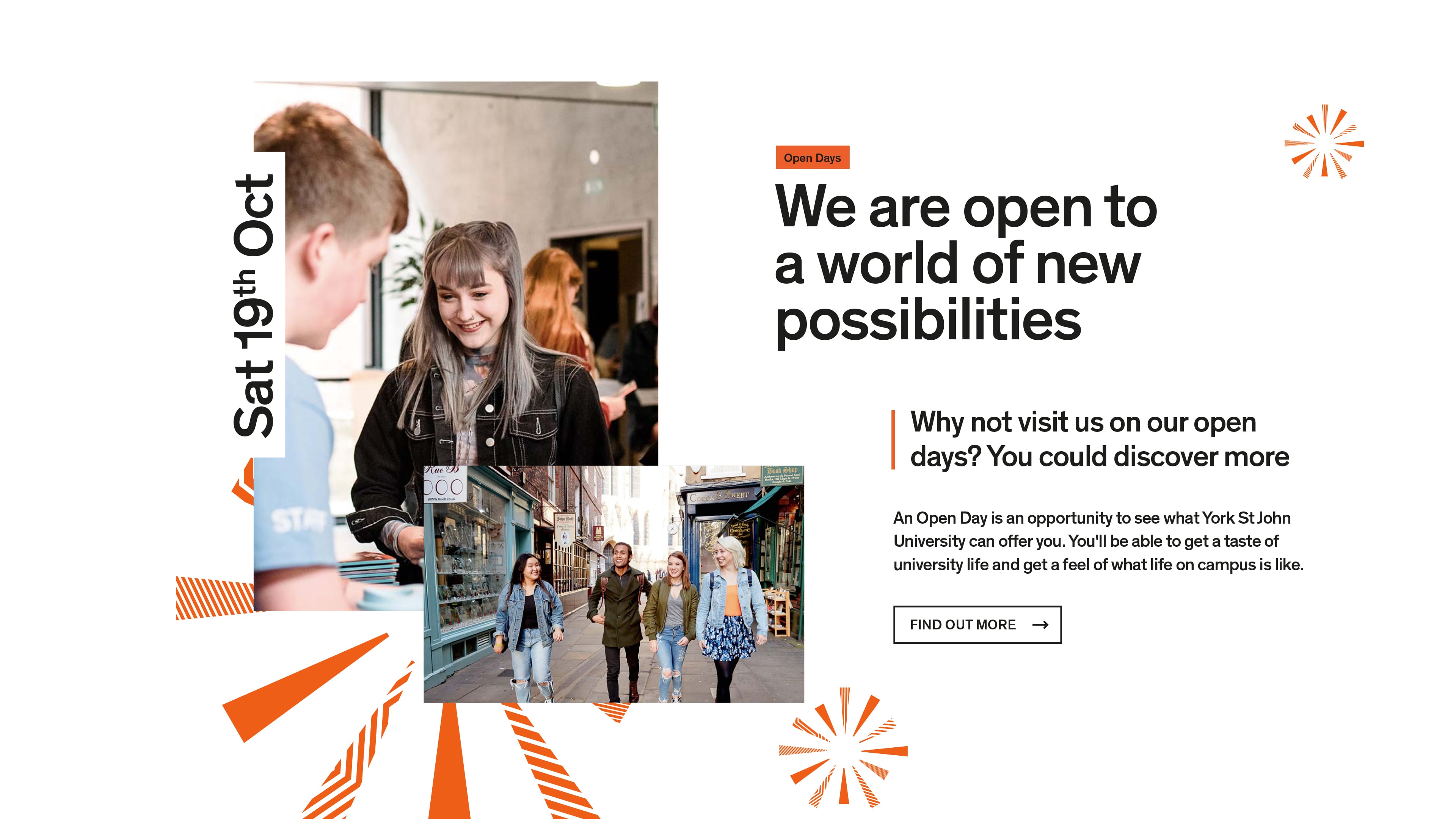 Getting ahead, by thinking ahead.
For us, the key to a successful digital transformation, is collaboration. Our Absolute Clarity workshops with students and marketing teams, led to the valuable insights we used to shape the user experience, content structure and creative direction for the new website. For this, we took the disruptive path of looking outside higher education, to glean visual clues from the fashion and lifestyle sector. By using our pattern library to completely reimagine the website look, feel and build system we created 31 different module layouts across 15-page templates; these could be added or removed, creating greater change flexibility, without losing the integrity of the interface. The success of this agency-university collaboration meant that we were able to deliver three months ahead of schedule.
York St John: The One.
Searching for the right university is something of an emotional roller coaster ride. After the ups and downs of disappointingly similar Open Days, York St John represents something refreshingly different. Their caring and friendly support services are instrumental in helping you get through this overwhelming process and into a uni where you can truly be yourself. 'The One' campaign captured the elation and adrenaline rush of knowing you've found the right university, perfectly. A visually arresting recruitment campaign with a strong creative and academic hook which communicates what makes them different from any other university.
The One that achieved true cut through.
First, we conducted Absolute Clarity workshops to gain key insights from students. These informed every element of our communications, successfully capturing exactly what it is, that makes York St John different. Namely, that the small scale of the university delivers a greater sense of community; a place where students feel supported, nurtured and celebrated for their own unique personalities; the one where you really feel you can belong.

The focus of the messaging thus became our 'York St. John is the One' strapline, reinforced by a strong number 1 graphic which incorporated the patterns we created as part of the brand. All of these elements combined to give the campaign energy and cut through in a highly cluttered higher education sector.
But perhaps the last word on The One, the website and the brand refresh should go to Dom Billington, Head of Marketing & Digital Experience at York St John University.
"We wanted to partner with an agency who understood York St John University and were excited about our vision for the future. We've found that with Absolute." Thank you, Dom, for one clear endorsement.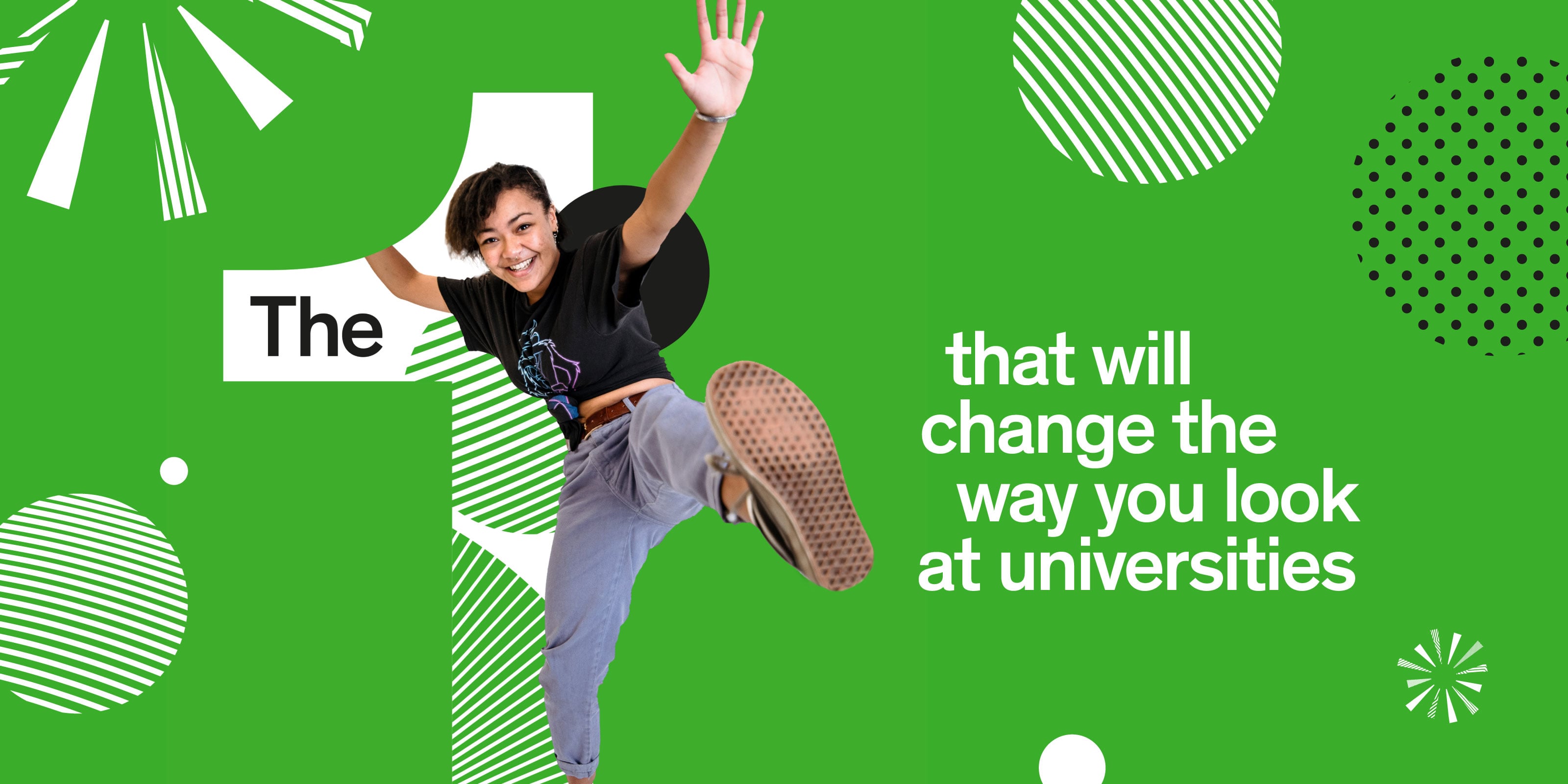 Edge Hill. Understanding the student journey, by taking a road less travelled.
As our latest campaign for Edge Hill University proves, truly understanding your audience and using key insights to shape a new narrative can lead to unprecedented conversion and ROI.
Although Edge Hill has been renowned for shaping minds and changing futures since 1885 and regularly been awarded for teaching excellence, exceptional student support and its beautiful countryside campus, they can often be overshadowed by the high spending, city-based universities within their catchment. The task was to create a student acquisition campaign which would communicate their core mission to create opportunity from knowledge, whilst creating real stand out. Following a successful outcome in a four-way tender process, we were commissioned to work on their 2022 student recruitment campaign.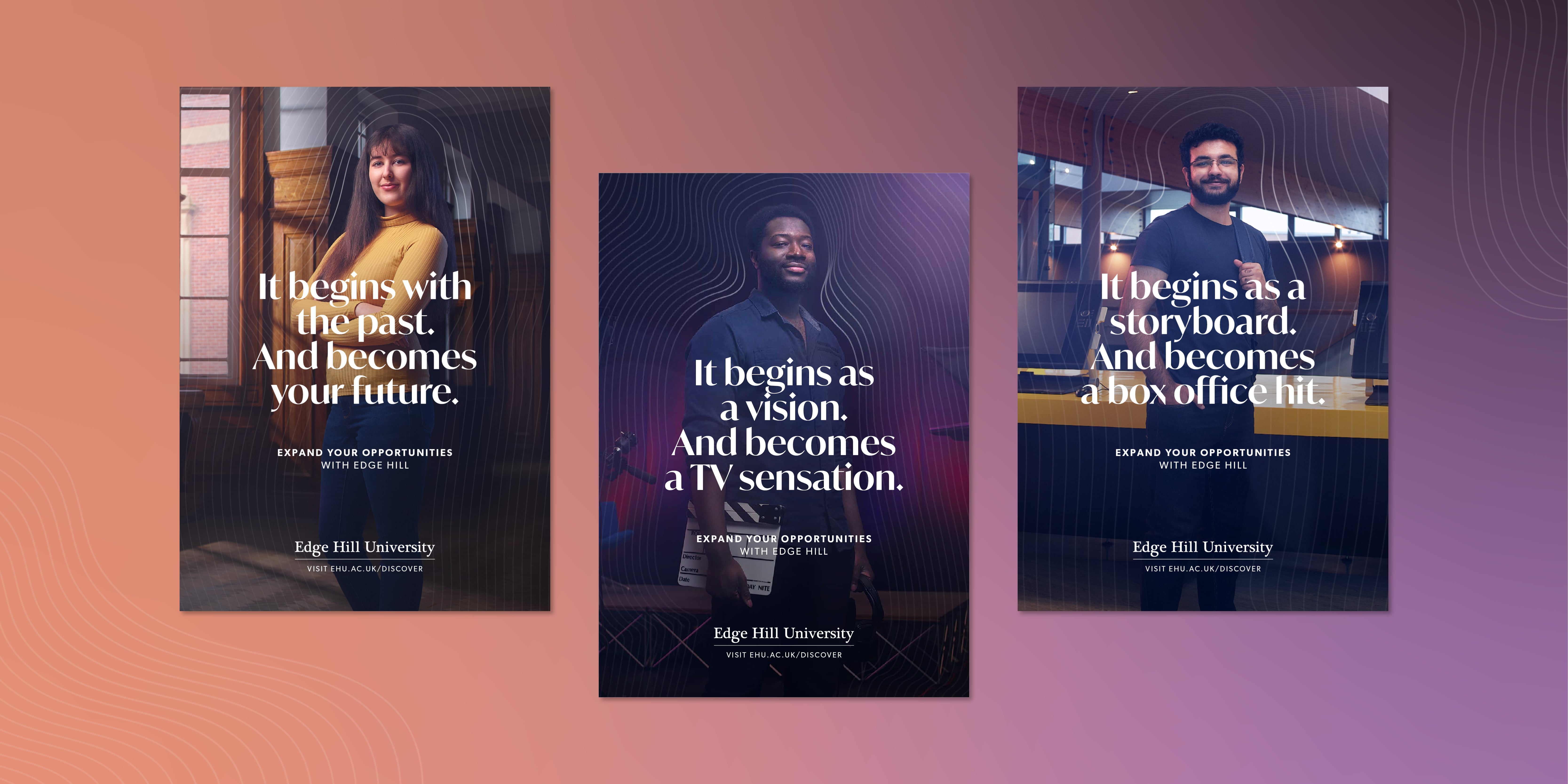 A campaign with an impact that keeps on growing.
One of the most important messages the marketing team wanted to convey was the way Edge Hill is absolutely focused on helping to change student's lives, but also the lives of others. The source of our ripple effect campaign was the idea that studying at Edge Hill will have a positive effect on students' knowledge, which will in turn, help them to have a positive effect on the world. It successfully conveys how Edge Hill can help students to fulfil their aspirations, by enabling them to picture the wider effect that being there will have; in essence, creating a ripple effect that will enhance both their lives and those of the people around them. In visually communicating the direct link between beginning their studies at the Uni and what they can go on to become, it creates a unique and compelling copy and visual narrative.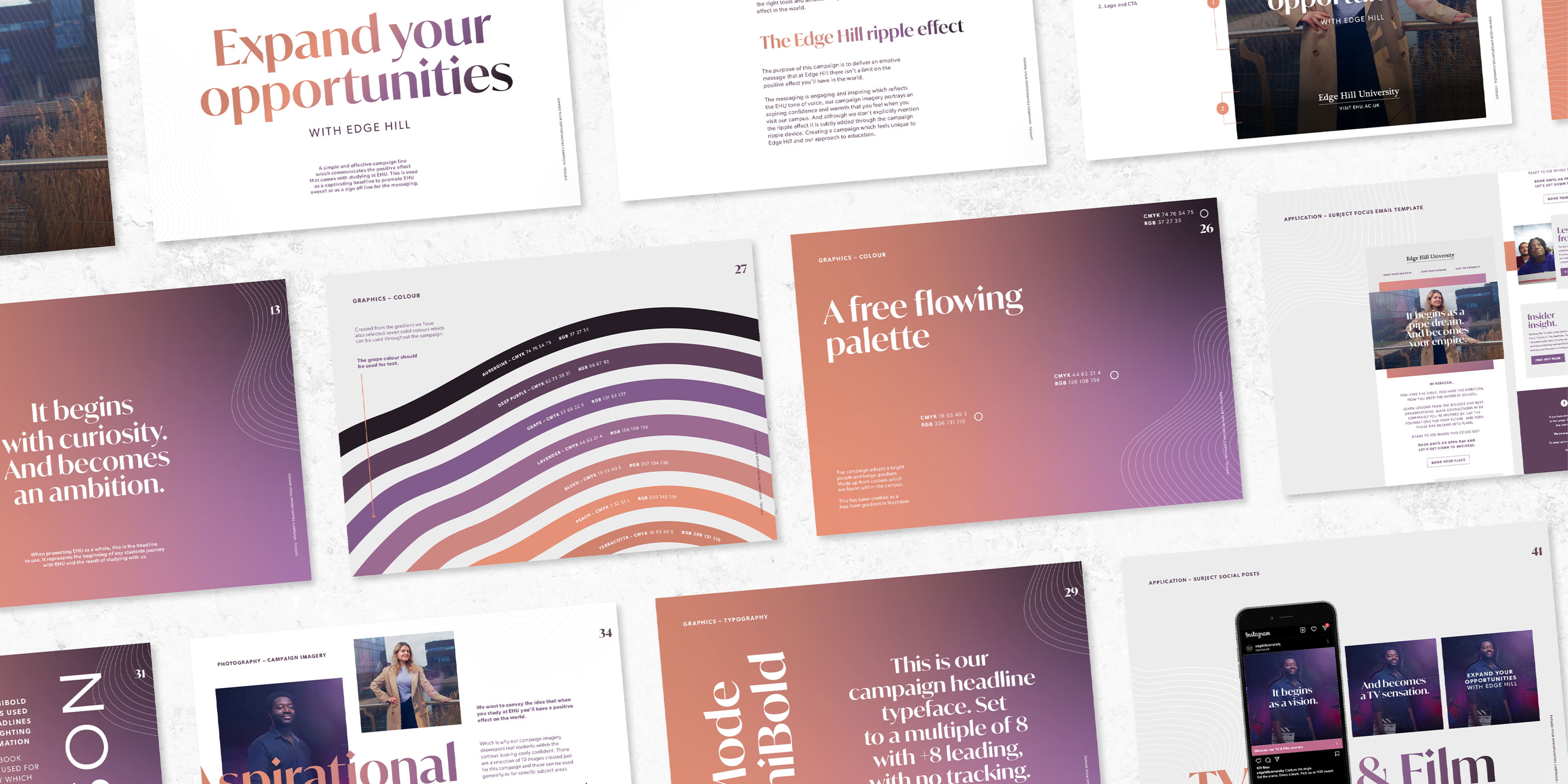 Expanding the idea ever outwards.
The 'Expand your opportunities' campaign is centered on this ripple effect idea, with messaging which starts off small and gradually becomes bigger. Striking photography and a distinctive look and feel combines to achieve real stand out in a veritable sea of student campaigns.
After the initial brand awareness launch, the campaign will expand to cover specific subjects and key selling points of the university, with a comprehensive and engaging toolkit designed to inform communications during the course of the year. From the initial launch in April 2021, the ripple effect has been transformative. Student recruitment has far exceeded expectations, significantly outperformed campaigns in previous years. For Edge Hill, the good news keeps going on and on and on.
Absolute has a great deal of experience working closely with universities across brand, digital and campaign projects for the likes of The University of Manchester, Queens University Belfast, Keele University, University of Glasgow, Stirling University, Leeds Trinity University, York St John University and Edge Hill University.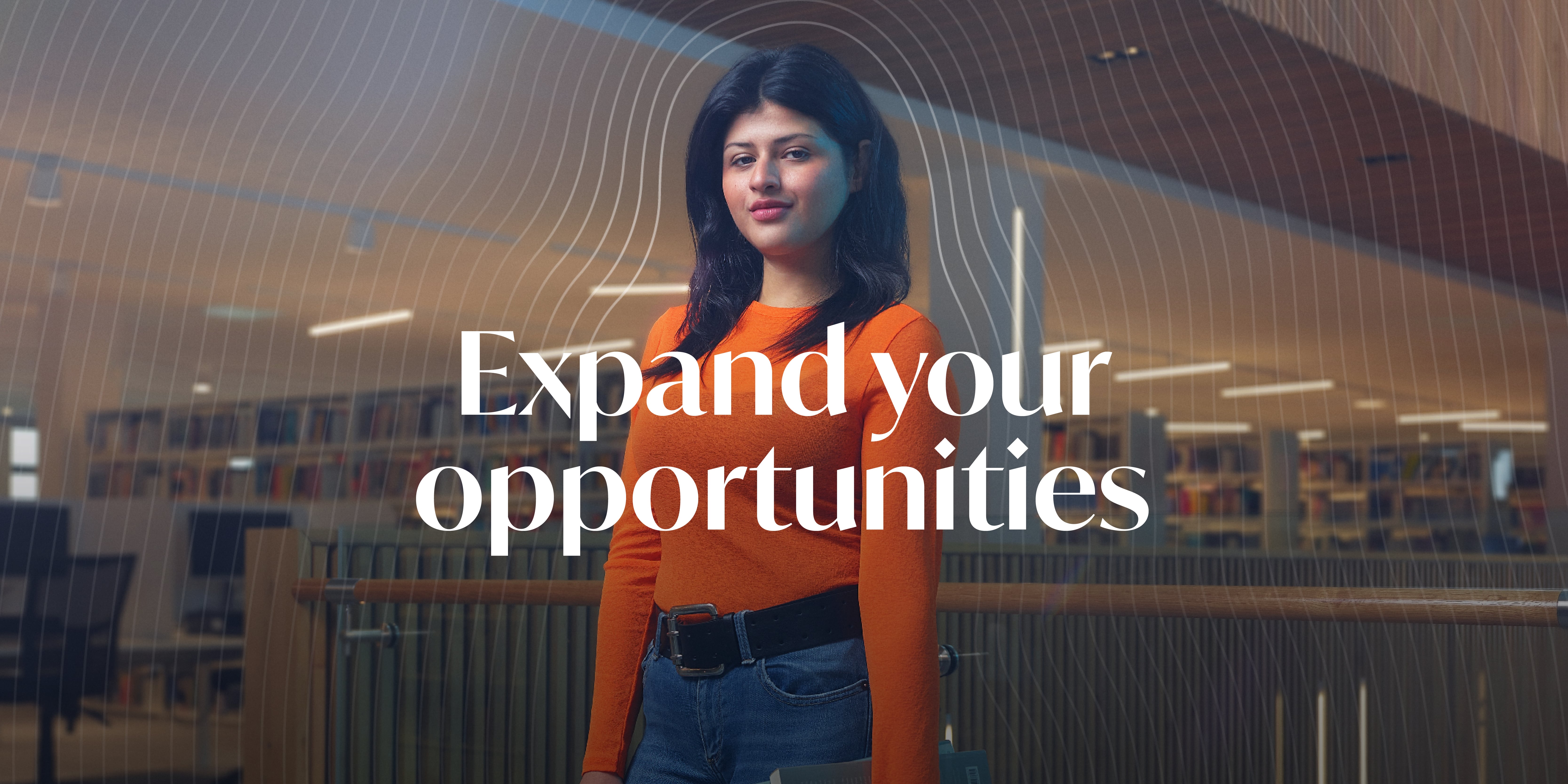 If you have a project that you would like Absolute to be involved in then please get in touch to arrange a meeting.