13 / 01 / 2022
New integrated portal connecting Bolton Businesses
When we were approached by Bolton Business Connect, an initiative launched by Bolton Vision's 2030 Economic Prosperity Group, to create an online portal aimed at improving the local economy and connect Bolton businesses, we knew it was a project we couldn't turn down.
We launched the website in June 2021, designed and built for users to quickly find public sector tenders and private sector opportunities all in one place, as well as easily add their own tenders and share contract opportunities, promoting themselves to other local organisations. Within the portal, users can also share jobs and find local talent.
Using our homegrown CMS, Absolute Control, which is powered by the amazing Laravel framework, the portal provides a feed of public sector contracts, supply chain opportunities, private sector developments, jobs and news for the visitors. When a user registers to become part of the portal, they will be granted various permissions to create new opportunities. This includes creating new listings, which will be moderated by an administrator and once approved, will be published to display in the public listings. Both individuals and businesses can sign up to access these listings and find out more information.
For powering the public sector contract listings, we aggregated tender information from various publicly available sources including the government portal, Contract Finder. This portal has an API which we are pulling suitable data for Bolton businesses from. One of the challenges when setting this up, was filtering through the large national database, and creating a minimised, more tailored list that interests the portal members. The tender information is mapped to centralised categories and locations to provide a shortened list for the members to choose from, so finding tenders would be easier.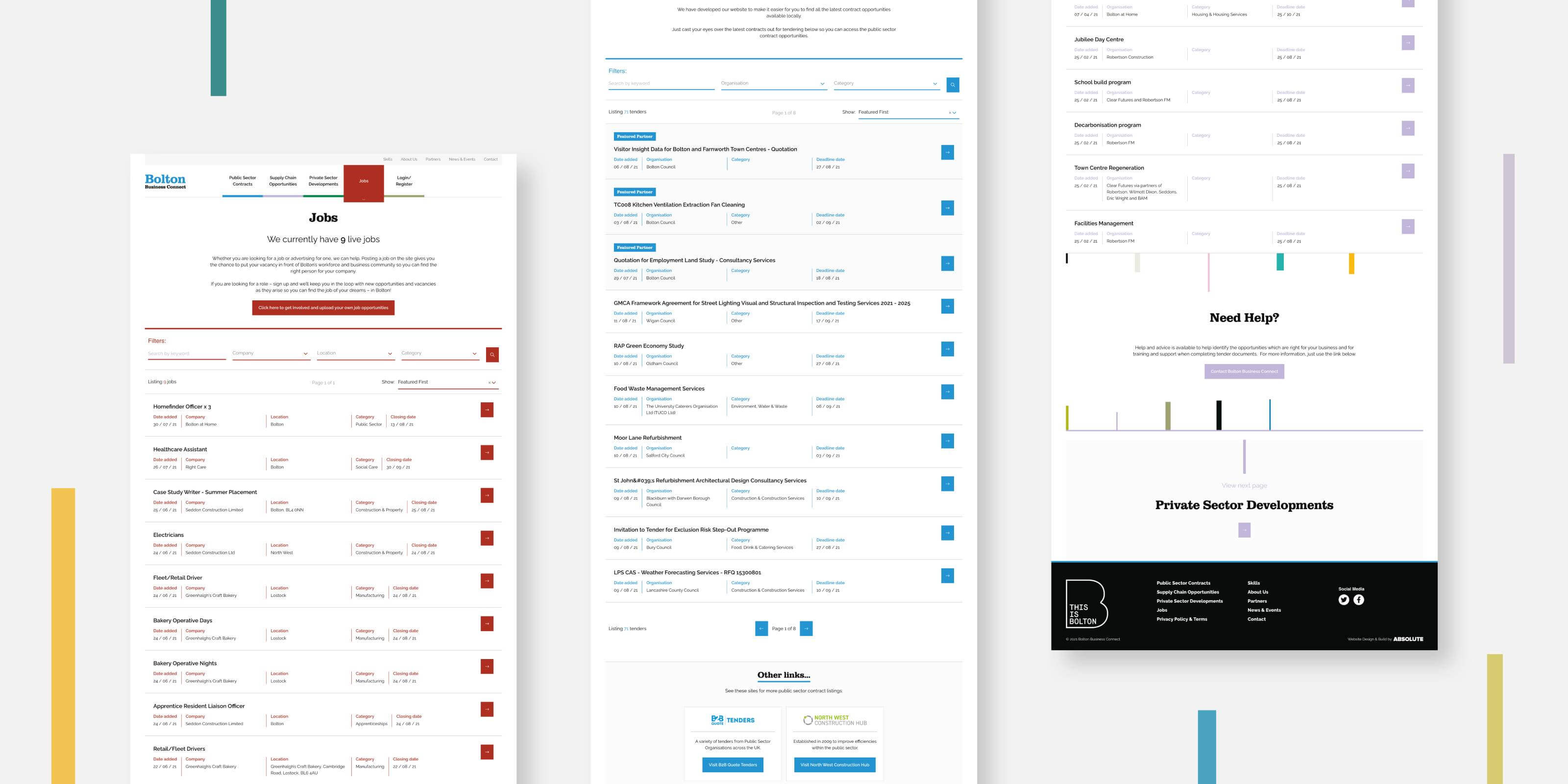 Another challenge we faced when pulling public sector contract information from other portals, was that some did not have a public APIs available to use. As a solution, we extracted the tender information from web pages and used that to construct the listings and pages on the site.
Scheduled tasks are implemented to pull data into the site at regular intervals so that the portal can show external data in a timely manner, but at the same time, without giving too much load to those external services.
The website also features partners, who are sponsoring the running of the portal and other activities of Bolton Business Connect, so we implemented some tooling to manage the activities and to promote the partners.
The Bolton Business Connect team has got a lot of ideas and we are excited about the portal bringing these to life. New features will be added regularly as we think there are a lot of opportunities to develop this portal further to provide the best experience for its members and businesses.
If you are a local Bolton business, sign up now!