12 / 01 / 2017
Internet Explorer – A look at the numbers
Author
Category
Share
A little over a year ago I wrote about why we were adapting our approach to Internet Explorer support. The premise for this was that changes to the Microsoft Support Cycle were due to come into effect, following Microsoft's earlier announcement that security updates and technical support would only be provided for the most recent version of Internet Explorer available on their operating systems.
What did Microsoft's announcement mean?
This was an important announcement because it effectively stopped updates and support for Internet Explorer 8 - and earlier versions - with each of Microsoft's Windows desktop operating systems having a more recent version of the browser available to them. Internet Explorer 9 and 10 were also to be affected because Internet Explorer 11 was available to each desktop operating system since Windows Vista.
The impact of the Microsoft Support Cycle changes
A full year on from the changes taking effect, it seemed like a good opportunity to look at the impact the changes have had on the web.
Note: All stats are based on worldwide traffic for the period January 2016 to January 2017, unless otherwise stated.
The overall landscape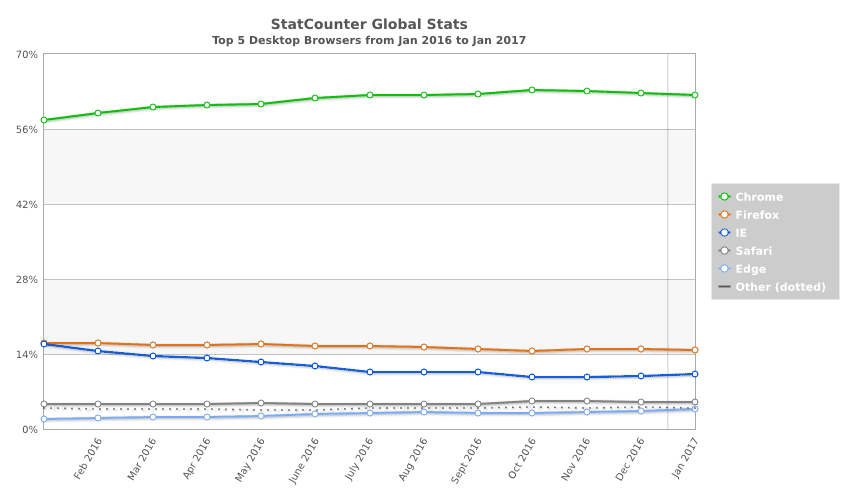 Google Chrome continues to dominate the Browser Wars, maintaining a market share over 50% across the whole year. Meanwhile, Internet Explorer fell behind a very steady Firefox, dropping by over 5% and falling below 10% for the very first time.
Breaking down Internet Explorer
Internet Explorer 11 leads the way here as the only version of Internet Explorer above 2% global usage, currently sitting at 8.2%. However, this is still a fairly significant fall from the 11.1% usage it held this time last year as Microsoft's Edge browser continues to grow steadily. It is also worth noting how quickly usage changed from one version of Edge to the next with the browser following the example of how other leading browsers roll out updates, differing from the model followed by Internet Explorer.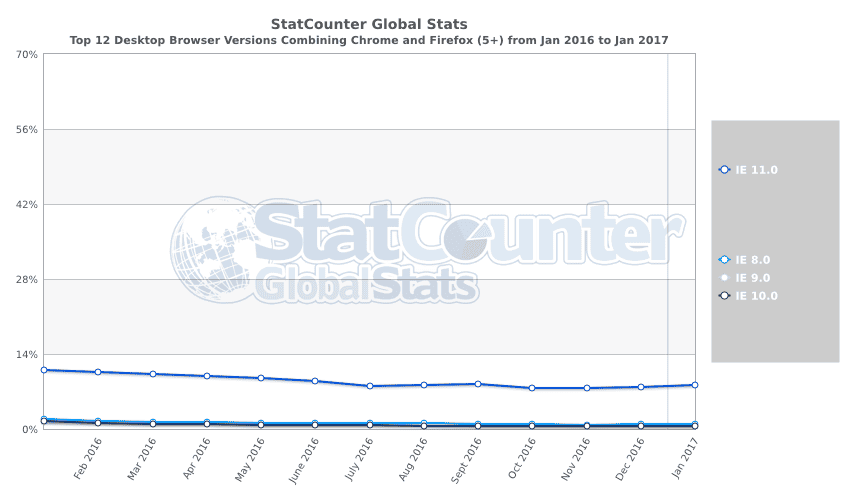 As predicted, Internet Explorer 8, 9 and 10 have all experienced significant usage declines over the last year (48%, 60% and 60% respectively). Each version suffered its biggest loss (between 18-20%) in January 2016 as the changes to the Microsoft Support Cycle took effect.
The UK perspective on Internet Explorer
The numbers fall further still when the geographic is restricted to the United Kingdom as the comparison between the two tables below show. Although usage was higher across the board at this time last year, it appears that the vast majority of the UK population have taken heed and made the necessary hardware and software upgrades that Microsoft were suggesting.
Date
IE8
IE9
IE10
IE11
Edge
Jan 2016
1.8
1.4
1.4
11.1
1.3
Jan 2017
0.9
0.6
0.6
8.2
3.5
Microsoft browser usage (%) – Worldwide
Date
IE8
IE9
IE10
IE11
Edge
Jan 2016
1.9
1.7
N/A
16.1
2.7
Jan 2017
0.4
0.5
N/A
11.3
7.7
Microsoft browser usage (%) – United Kingdom
Conclusion
The decision we made to adapt our approach to Internet Explorer support has allowed us to use web development budgets more effectively, reallocating time catering for deteriorating legacy browsers into the development of bespoke, future-facing websites that can stand the test of time and enjoy a longer lifespan. To find out more about how the allocation of your website budget can produce a better return on investment, I covered some of the benefits of dropping legacy browser support in the original article I referenced earlier.