20 / 05 / 2021
Best Brands of 2021
Author
Category
Share
It's safe to say that the start of 2021 hasn't been the year we all hoped for but despite the unusual times, creativity definitely hasn't been dampened. In fact, in the first few months of 2021, we have seen some fantastic marketing from brands that have used their platform to share humorous, engaging and relevant content in an otherwise bleak time.
Here's some of our favourites…
Weetabix/Heinz
In February, Weetabix tweeted the below image - a very bizarre mixture of Weetabix and Heinz beans. Now, each to their own, but cereal with beans?! No thanks.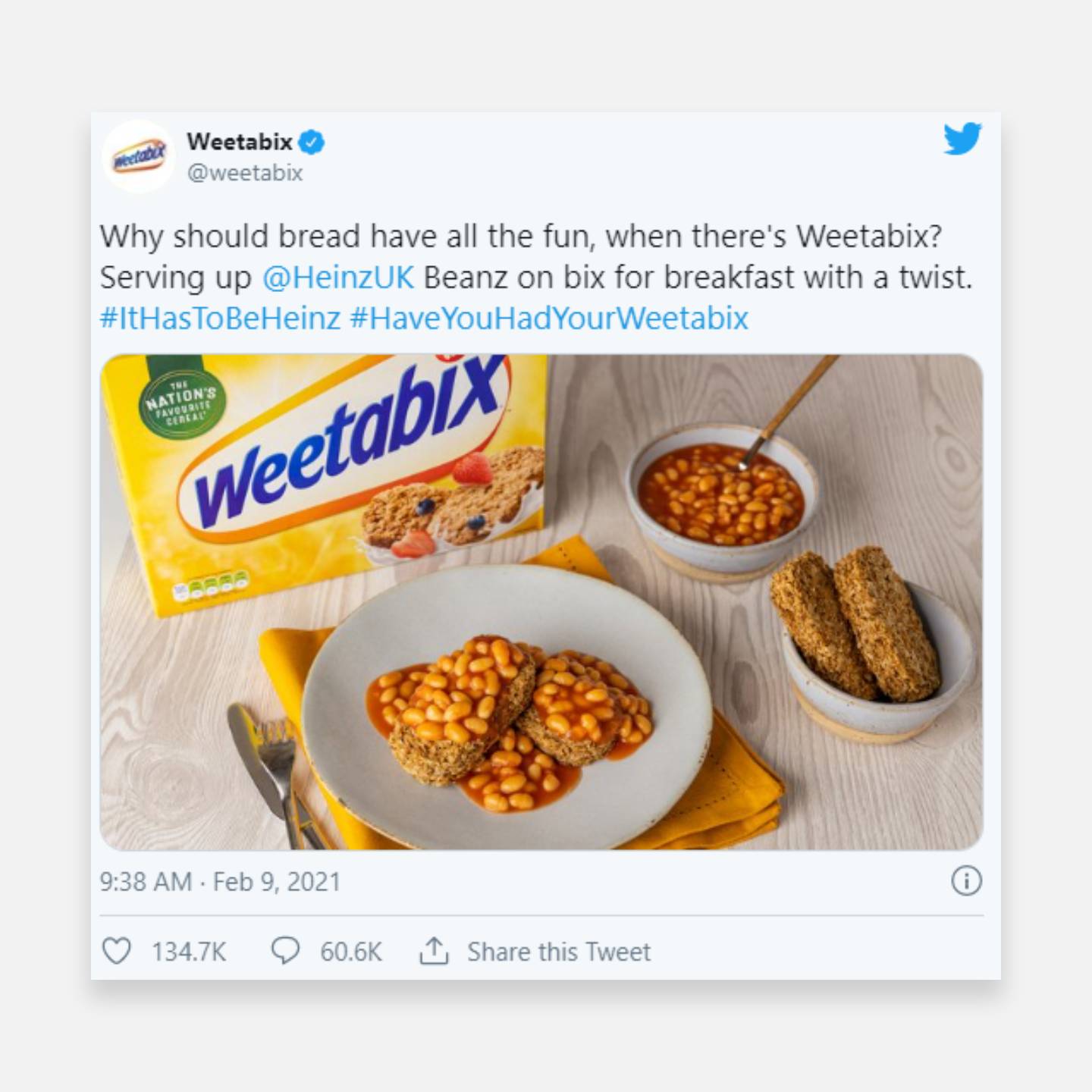 The strange concept allowed engagement to soar, with well known brands like Lidl, KFC and Kellogg's, jumping onto Twitter to reply with witty comments, each receiving thousands of likes, retweets and comments.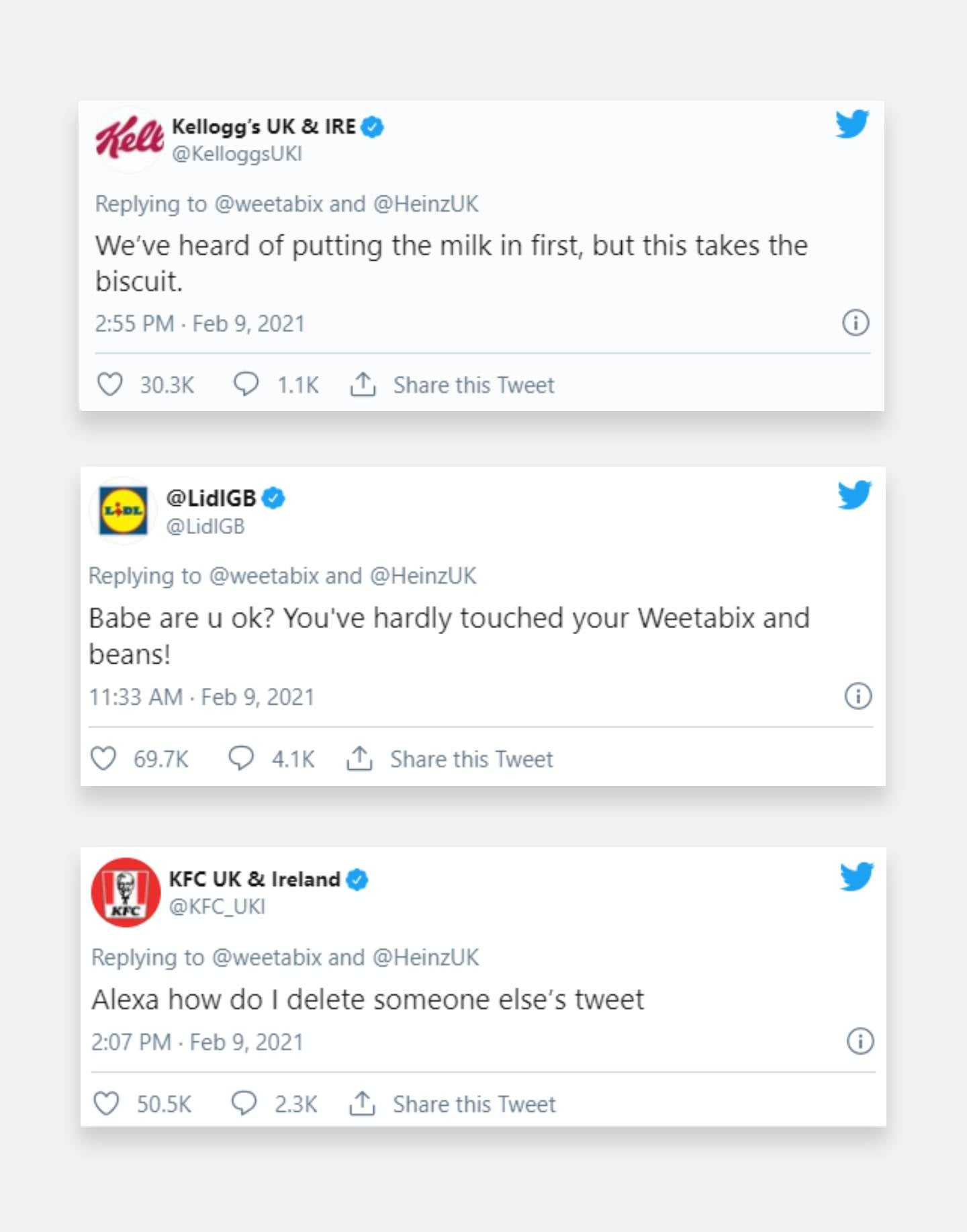 Some brands got very creative, and used the conversation to promote their own products, like Marmite.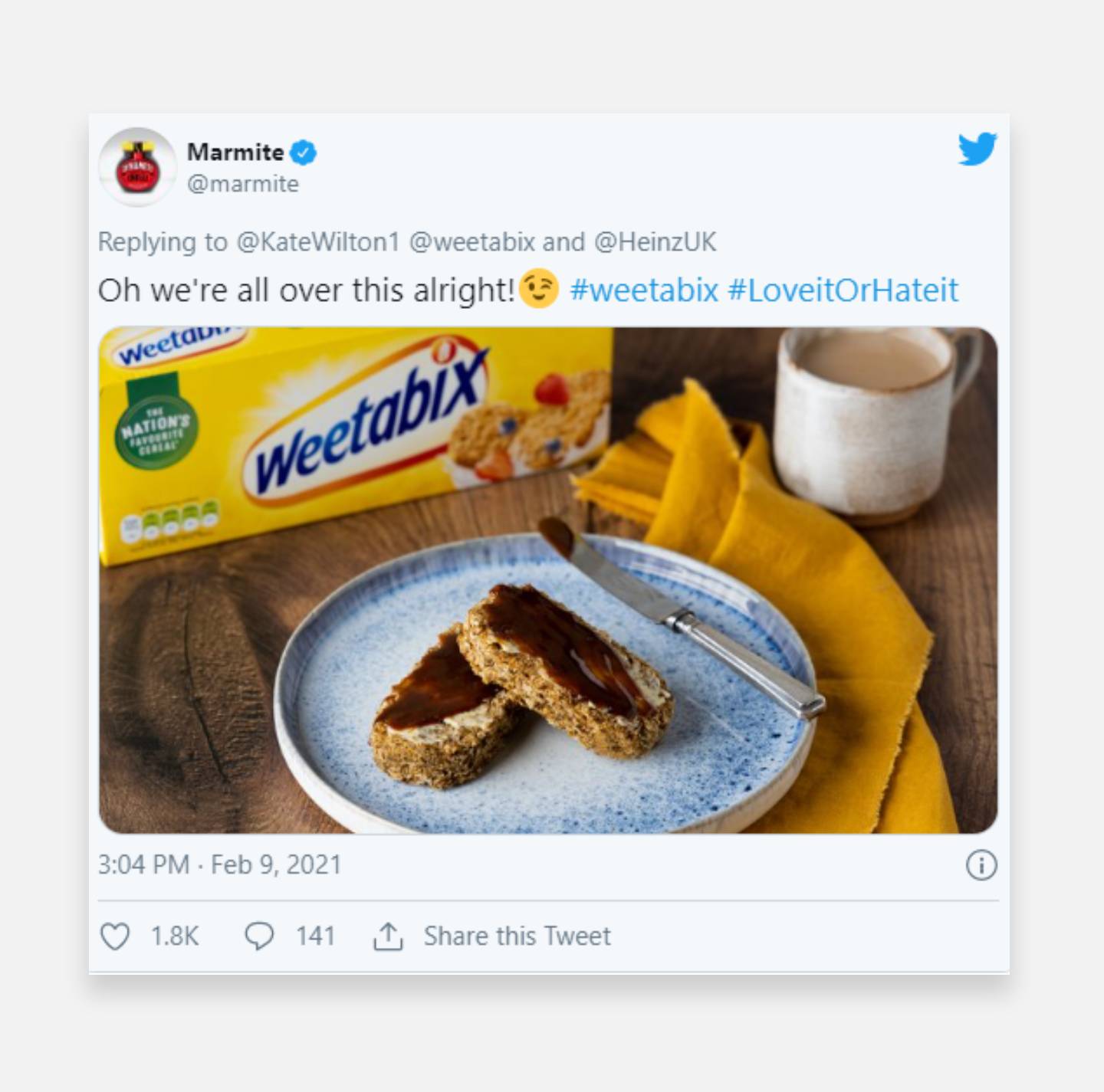 What began as a stunt from Weetabix & Heinz, soon became an online talking point, allowing the individual brands to promote themselves in an otherwise unconventional way. It's a great example of how effective social media marketing can be when done right. These brands saw an opportunity to engage online in a unique way, leading to brand exposure, awareness and allowed followers to humanise the brands they use every day.
Marmite
In February, Marmite released a limited edition chilli flavoured jar of their controversial spread.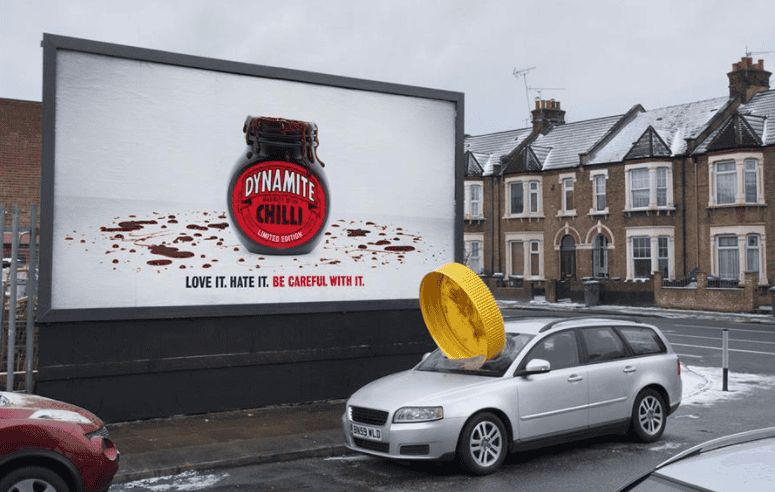 The campaign features a Marmite Dynamite jar on a 48-sheet poster, with the lid blown off and smashed into a nearby car windscreen. The clever execution of the exploding jar highlighting the spicy kick of the new flavour.
Along with social activity, the campaign secured a 3 minute TV segment on This Morning, where hosts Alison Hammond & Dermot O'Leary taste tested the product. An overall unique, and well rounded campaign.
Love it or hate. I'm not a big fan of Marmite, but I definitely love this campaign!
Tesco
Tesco's latest ad campaign encouraged people to visit local pubs instead of buying from their local Tesco, as a way to support local businesses and help the hospitality sector after they took a hard hit from the pandemic.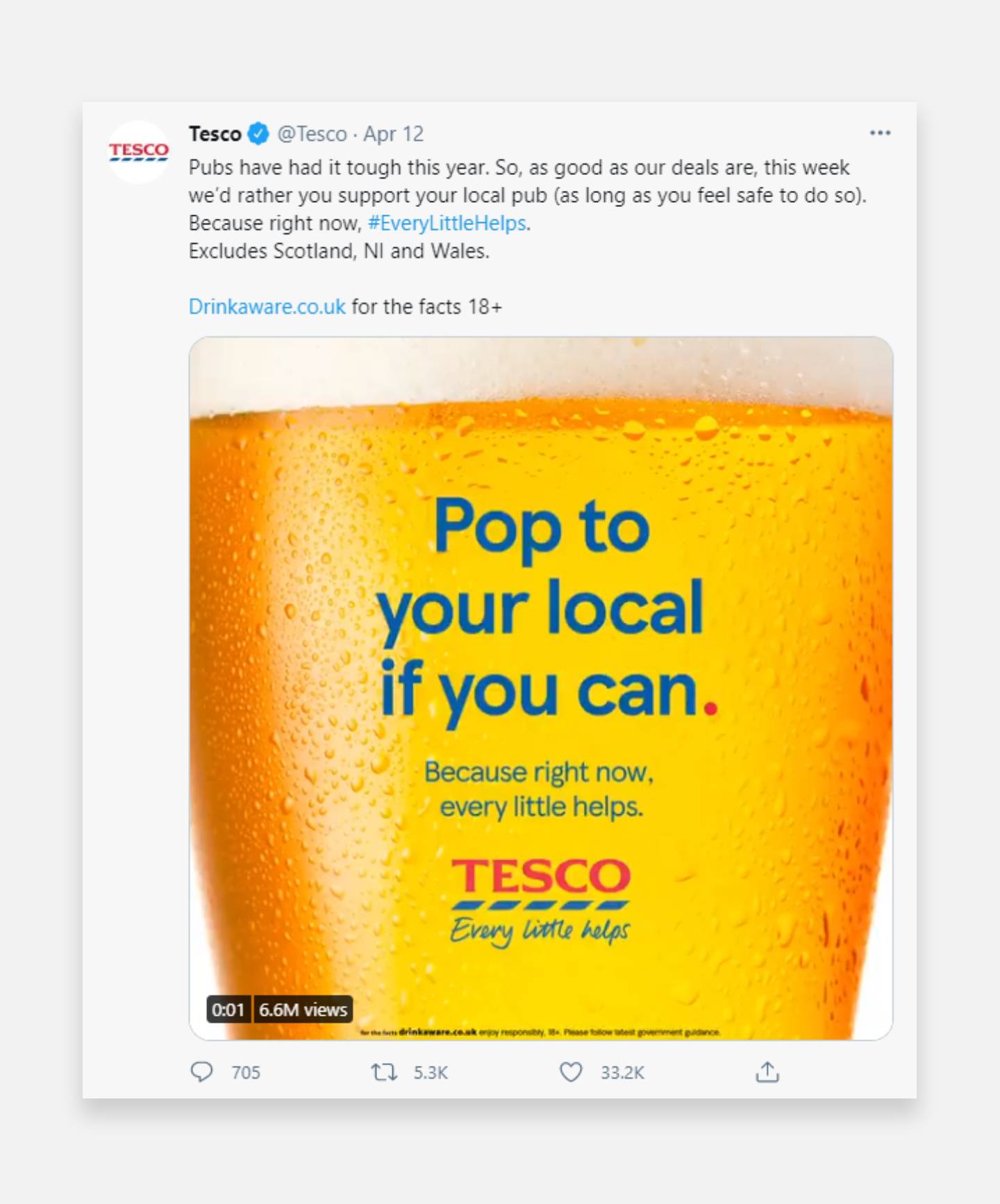 Launching the campaign on the 12th April to coincide with pubs being allowed to open in England for outdoor trade, was a well planned decision from Tesco, as they recognised that on this day the main topic of conversation would be the pubs opening.
Instead of promoting themselves, they admirably used their platform to urge customers to give their business to local establishments.
In doing so, they gained popularity amongst a lot of their social followers, as shown by the high engagement rate of the social post with over 5k retweets and over 33k likes. As well as promoting on social, the campaign also featured full adverts in national newspapers and digital billboards.
One Minute Briefs
Another great campaign from 2021 is from One Minute Briefs. To mark World Wildlife Day in March, they teamed up with WWF and Voice for the Planet, asking brands and sports teams to remove nature featuring in their logos/badges for the day.
The aim was to show how strange, empty and dull the world would be without nature.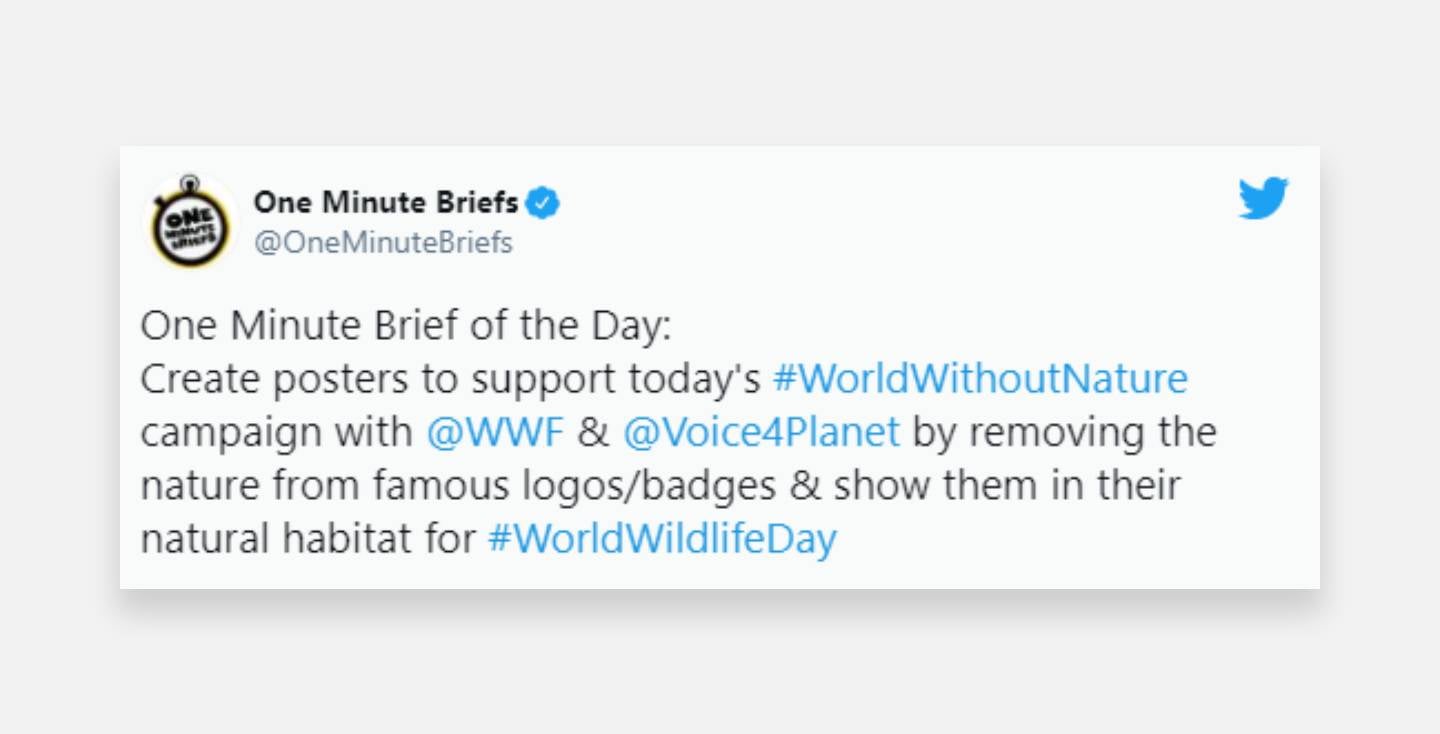 This awareness campaign helped shed light on the ever pressing issue of nature and wildlife loss all around the world. WWF & Voice for the Planet cleverly targeted well known brands and sports teams, each with large followings, to be involved in the campaign as a way to elevate the exposure of the campaign. Here's just a few examples of those who got involved:
The campaign allowed for user-generated content to be produced, all promoting the same thing and feeding into the overall conversation that WWF and Voice for the Planet want people to be having. Overall, the campaign was successful with multiple brands taking part, sharing the # and sharing the conversation with their followers.
Sony
I'm sure you will have seen the famous photo below of 4 men dressed up on a night out - or at least seen a meme of it!
After the image went viral, the guys became known as the 'Four Lads In Jeans'.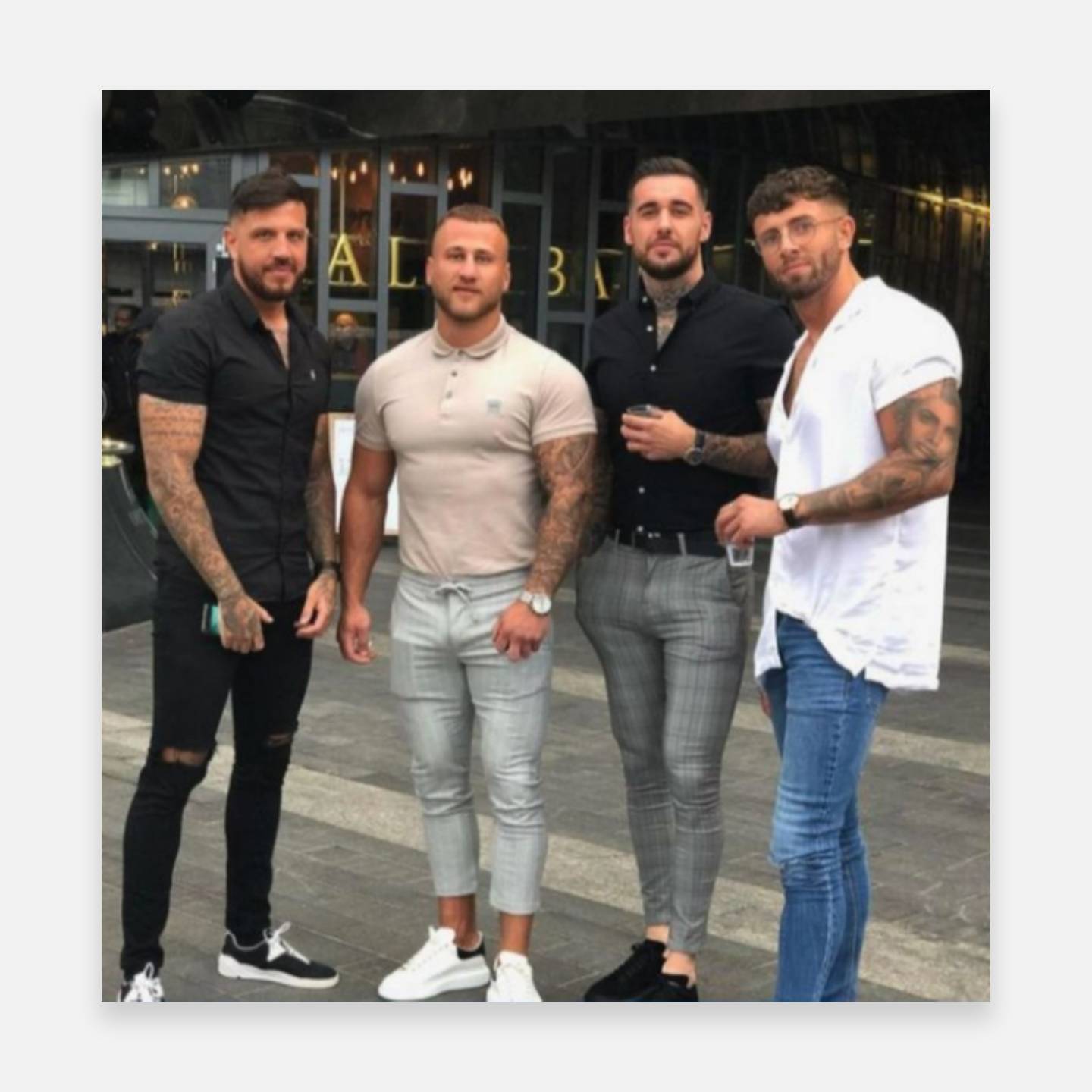 Unfortunately, these guys went viral for the wrong reasons, with people taking to social media to slander their appearance and use memes as a way to mock them. Online trolling and negativity has been an issue throughout the pandemic, with more people spending time online sharing comments they would otherwise not say in person.
Sony recognised the backlash the men were receiving and came up with the brilliant idea of signing them to be the face of their noise-cancelling headphones - a way to block out the negativity.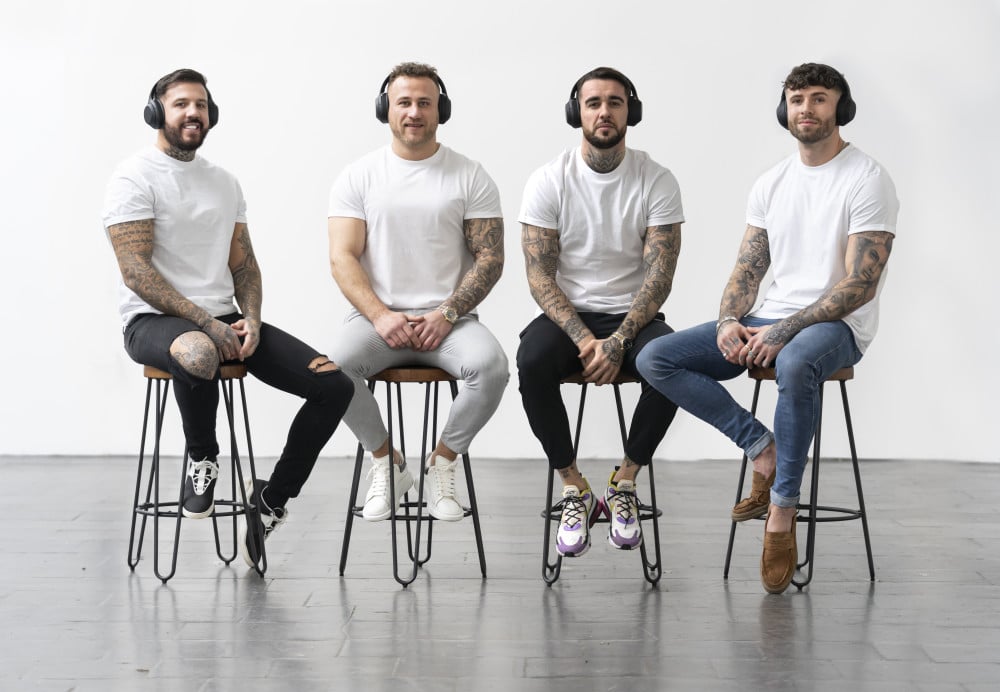 The partnership was a smart decision made by Sony as a way to promote their headphones. They selected a group of men that already had an online following, and used the men's negative online experiences as a way to tie in with the messaging of their headphones, all whilst promoting positive online change.
Creativity has started strong in 2021, let's see what the rest of the year has in store...