17 / 10 / 2018
Absolute Control Spotlight: Incorez
Author
Category
Share
The secret behind Absolute Control is its ability to be customised to suit every client's needs perfectly. We wanted to start a series of articles giving you a glimpse at the journey from finding out how the client works to help them build a site that reflects their needs and the needs of their audience, without the restrictions of a typical off-the-shelf CMS solution. This week, we take a look at Incorez and how we used Absolute Control to take their "Customer Chemistry" message online.
When we began development of the latest iteration of the Incorez website, we knew we wanted to bring through lots of brand elements to help establish it's online presence and also be engaging for the user and reveal the Incorez philosophy. We wanted to break the site free from the confines of templates and have a seamless flow throughout each page. We also needed to make sure that it was easy to edit and update content on the site, to introduce new products and ranges, to add new case studies and make communication simple and effective to businesses throughout the world. Here is a look at how our bespoke digital marketing platform: Absolute Control, helped us to achieve this, and how we tailored the website's look, feel and functionality to suite Incorez's requirements.
Dashboards
On logging in to Absolute Control, the user is presented with a series of data visualisations, designed to give them quick access to real-time information about the website. Given the global reach of the Incorez brand, it's important to see where traffic is originating from and countries where new interest is emerging, so we have broken down the top 10 countries into a pie chart so that the user can get a clearer understanding. We also have dedicated dashboard panels to show new signups and enquiries. These label the country of origin and also provide a quick touchpoint for users of the system to quickly respond to new enquiries.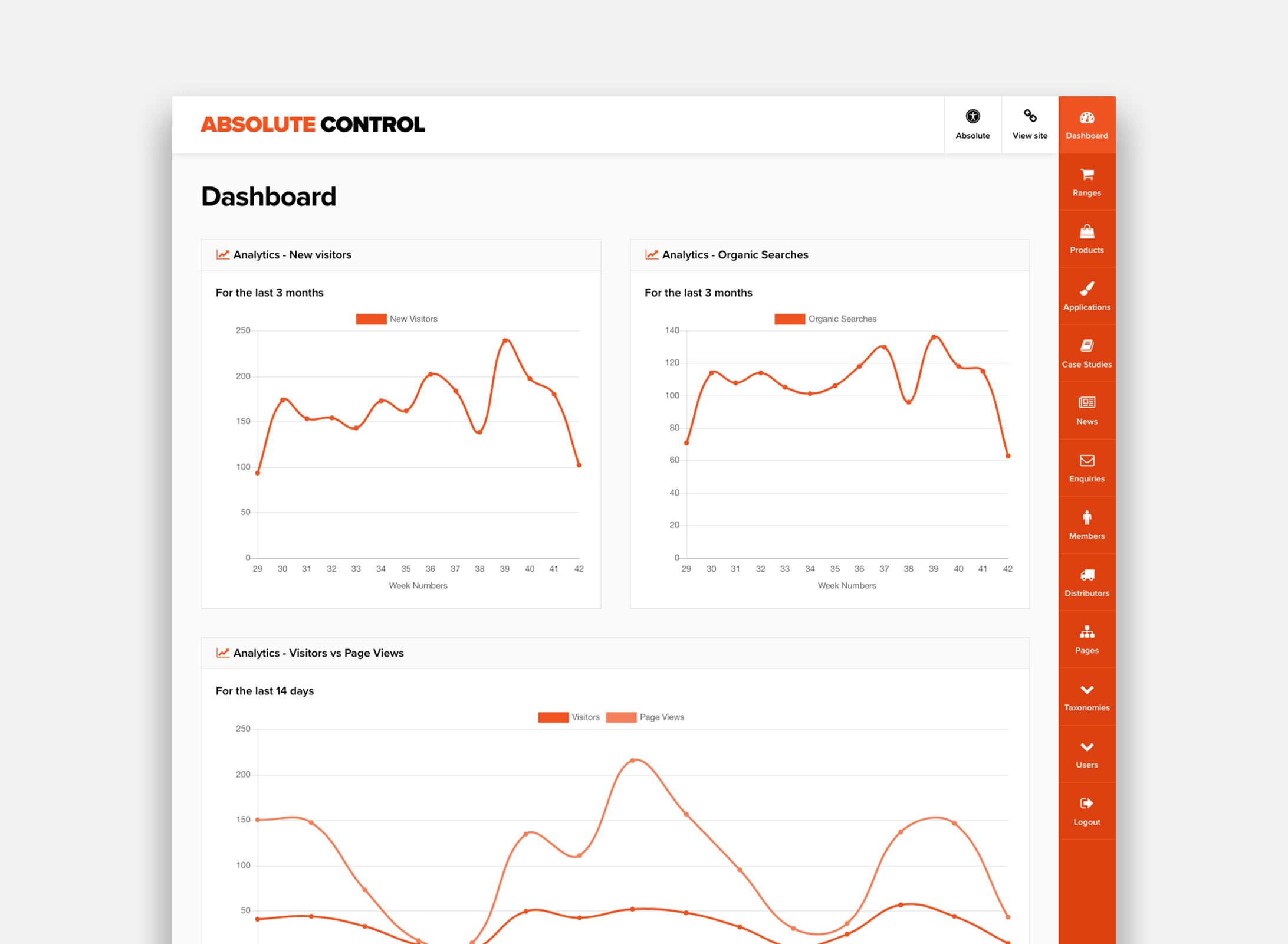 Products & Ranges
In order to showcase the Incorez range, we took advantage of Absolute Control's ability to create strong, customised templates. We looked closely at the Incorez range, decided what we wanted to showcase and how we wanted it to look. We started with raw data, then created a custom administration template to work with this data. For example, each product has certain features, typical applications, and properties. Within Absolute Control, the user is able to populate these fields with data for a specific product. Because we were working with data, this gave us the freedom to create a custom interface component in the form of a modal dialog, containing a breakdown of the product's features and properties. This allowed us to keep the design of the page clean and focused on showcasing the product highlights, while still allowing users to easily dig down into the technical detail of a product.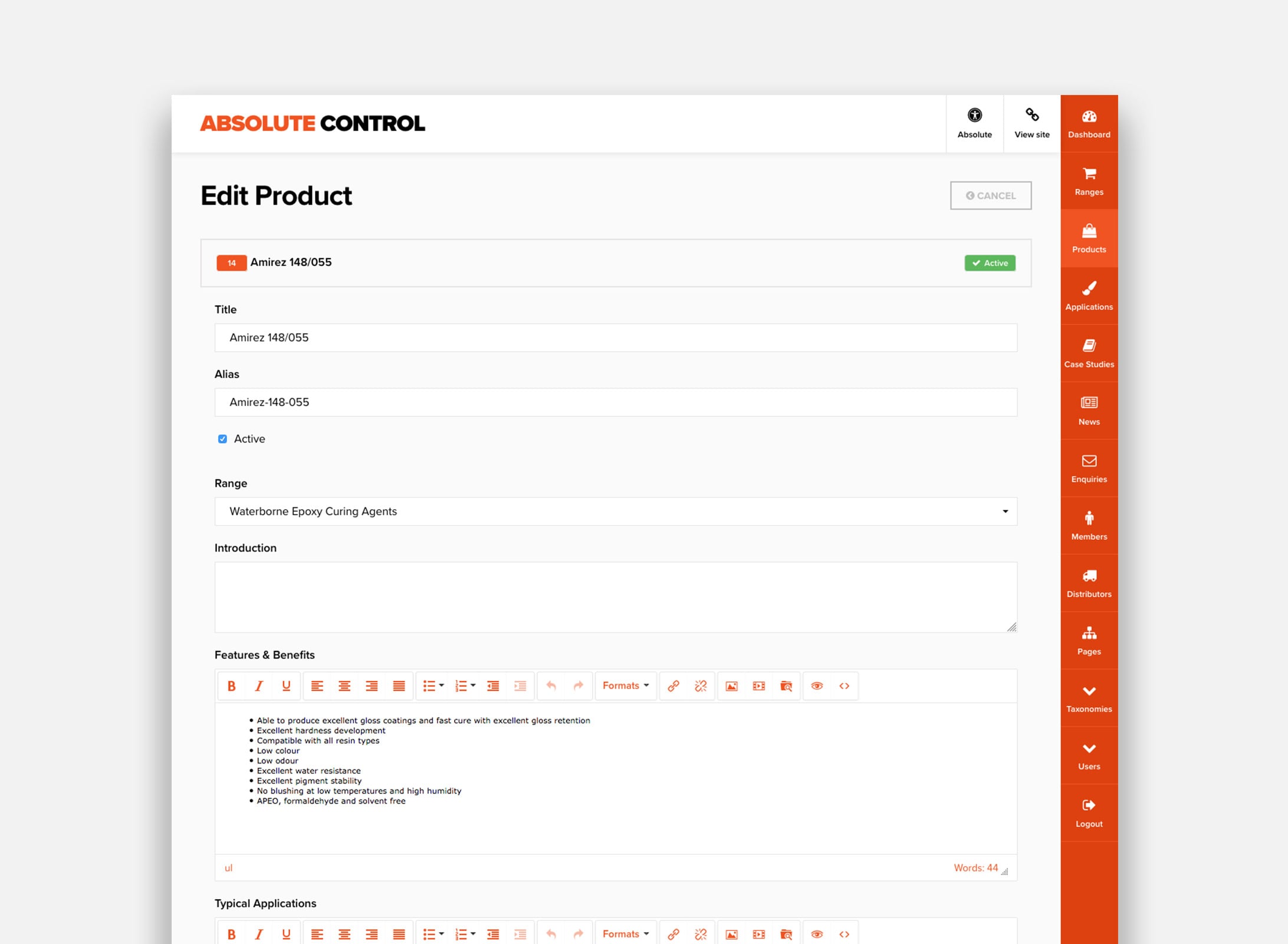 Case Studies
The case studies on the Incorez website had to create the link between product and application. There were many applications over a wide range of industries, and we wanted to highlight Incorez's problem solving, custom approach to delivering solutions. We used the range data that we already had in Absolute Control, to create categories for each case study to go in.
A format was decided upon for all case studies to follow. The case study begins with a brief outline of the company the solution is being delivered for and the industry sector which they operate in. This is then followed by the problem that needed to be solved, the solution that was delivered, concluding with the benefits provided by the Incorez solution. Once we had this structure in place we were able to tailor Absolute Control, making it easy to create case studies in this format. Case Studies were also accompanied by a downloadable PDF.
The resultant case studies section contains a filter so that visitors can quickly find case studies appropriate to the particular solution that they are looking for. The structure also makes the case study pages more consistent and pertinent, whilst remaining clean and strongly tied to the brand.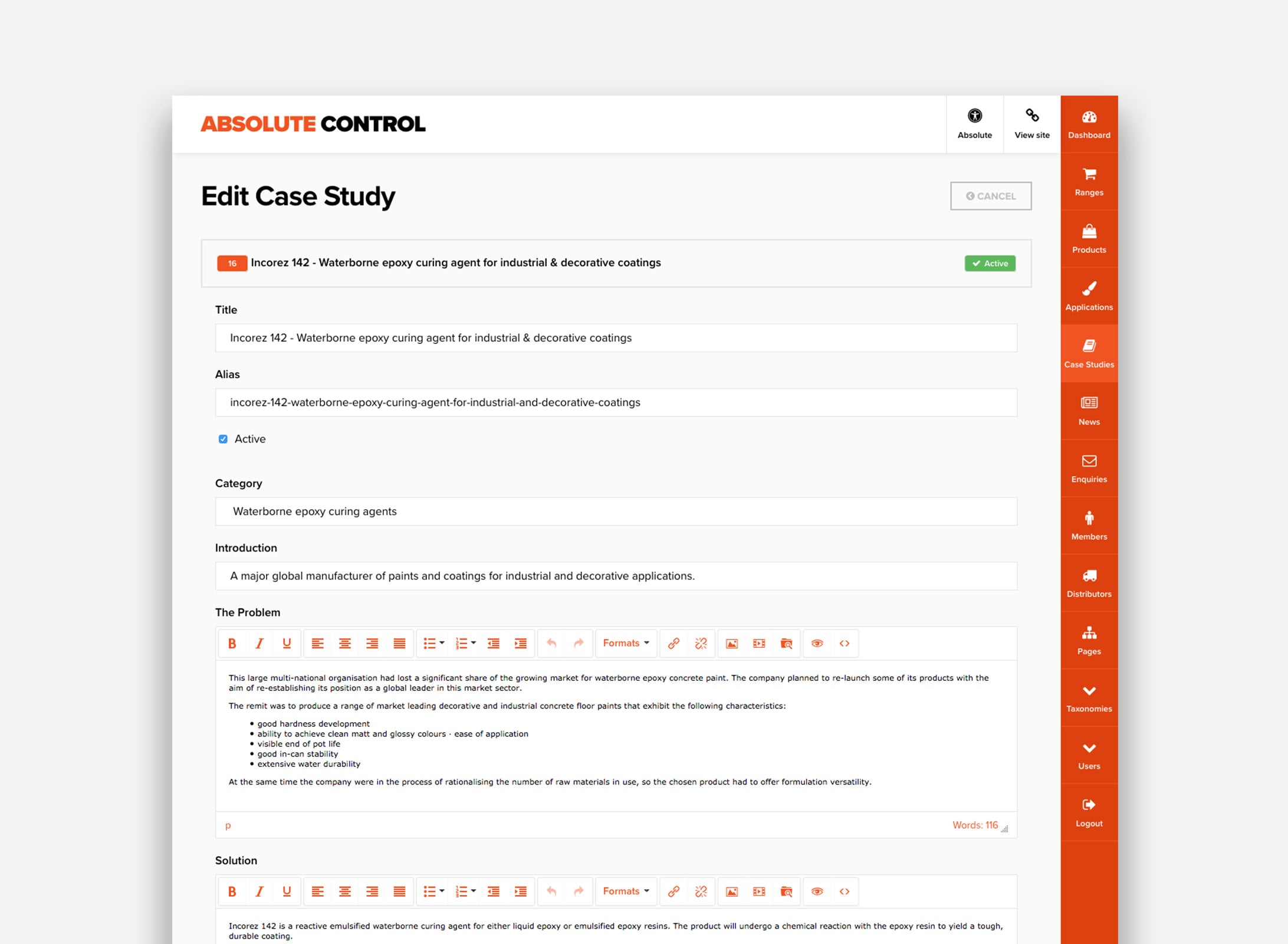 Memberships
Some of the content Incorez wanted to publish on their website was only to be shared with approved partners, who would have access via a membership. Absolute Control already has a sophisticated authorisation package, so we were able to use this to provide Incorez with a solution. Our solution allows certain pages or portions of a page to be restricted so that they can only be viewed by logged in members. In this case, we wanted to include more detailed product data and distributor info, but only make this accessible to authorised users who are logged in.
Absolute Control also provides us with a solid registration system, allowing new users to apply for access to this data. We were able to create a custom registration form which allows us to capture detail about the member, including sectors and products which they are interested in, and where in the world they are based. All this data is captured and is viewable in Absolute Control. It can be used in future CRM operations and exported for use in other applications.
Using Absolute Control allowed us to build the site from a blank canvas, without compromise. Since launch, we have continued to introduce new features as Absolute Control, and it's main underlying technology: the PHP framework Laravel, have evolved. By removing all of the traditional restrictions of a CMS, we were able to focus on user journeys, client requirements and creating a unique experience that sets Incorez apart from its competitors. Check it out.
To see the story behind the Incorez branding and the Customer Chemistry message - see the case study here.