20 / 12 / 2018
Absolute Control Spotlight: H2 Gambling Capital
Author
Category
Share
The secret behind Absolute Control is its ability to be customised to suit every client's needs individually. Our Spotlight series aims to give you a glimpse at the journey we undertake to really understand and appreciate the way our clients and their audience work in order to help them build a web platform that can specifically meet these needs without facing the restrictions of a typical off-the-shelf CMS solution. This time we take a look at H2 Gambling Capital and how we used Absolute Control to build a bespoke data-driven digital platform.
H2 specialise in providing the most comprehensive data across all major gambling markets. Their team gather and analyse this data which then allows them to create 5 year forecasts. This project required us to deliver a multi-level web presence with three key areas needed from the platform - the public facing website, the interactive subscriber area (including a demo option), and an admin area for H2 to manage everything, from files to subscriptions.
Data Digitisation
After meetings with the client to discuss and get to know their workflows and processes, our first key challenge was to come up with a solution that would take the vast amount of data they were keeping up to date in spreadsheets and bring it online. This needed to be done without them having to change their existing workflow and also not have to enter the updates a second time on the website. The result was a version controlled file upload system where the H2 team could upload their updated spreadsheets and Absolute Control would scrape the data and convert it into a usable format to be presented in the subscriber area. Each updated file that is uploaded is seen as a new version of its master document, reducing the need for duplicate data entry while also maintaining a historical record of updates for each document.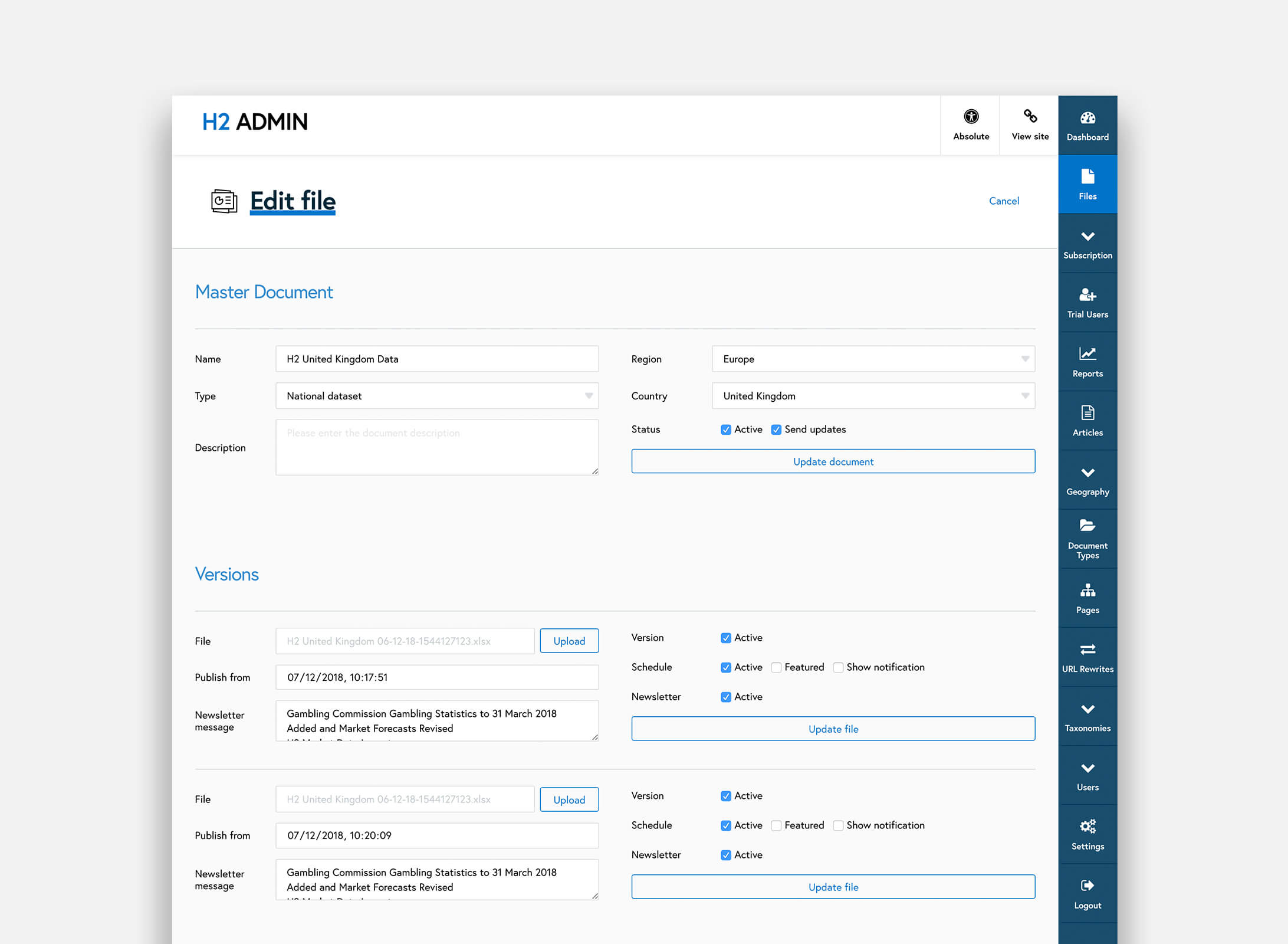 File Management
Each master document therefore has a number of files attached to it, the latest (and therefore most up to date) of which can be downloaded in H2's subscriber area. With a large number of different files available across a wide variety of countries and markets we needed to make them easier to find for subscribers. To solve this we implemented a sophisticated tagging system that allowed the master document to be tagged across a number of different factors such as geography, market and type.
These tags then allowed subscribers to narrow down the files through an easy to use filter system that also included a number of other automated filter options. We were also able to use the geographical tags to generate an interactive map that provides a more visual option when it came to searching geographically. As this is automated based on the existing data, it requires no additional work for H2 to update or maintain.
Subscriptions
The subscription model which H2 operates allows an organisation to take out a subscription with an unlimited number of users attached to it. We developed a bespoke user management system built around this model, comprising of organisations and users. An organisation can be assigned with a subscription and a group of users, one or more of which could be an organisation admin in order to manage their subscription. Subscriptions are yearly but organisations can take out multi-year subscriptions at a discounted rate.
As part of this, there is also the option for new users to request demo access and the H2 team to add or enable trial users who can then access a demo version of the subscriber area in order to help convert potential subscribers. The demo area provides trial users with a chance to see the functionality of the subscriber area without accessing any of the real data.
Dashboards & Reporting
Every user is presented with a custom dashboard containing information relevant to them. A user logged into the subscriber area will be able to easily access their followed files from the dashboard, as well as key files that have been pinned by the H2 team. Subscribers will also see stats relevant to them like how many new files have been uploaded and, in the case of organisation admins, how long is left on their subscription. These dashboards have been built to grow and can be added to with new information at H2's request.
Meanwhile, one of the H2 team logging into the admin area will see a variety of widgets containing information and statistics about subscriptions, users and file downloads. They will also be provided with data pulled in from Google Analytics so they can access all relevant data about how the platform is performing in one place. As well as the overview on the dashboard, there is also a more detailed reporting system built into the Admin area. These reports provide H2 with more detailed insight into how the system is performing and allows them to keep an eye on trends and which areas to prioritise for updates.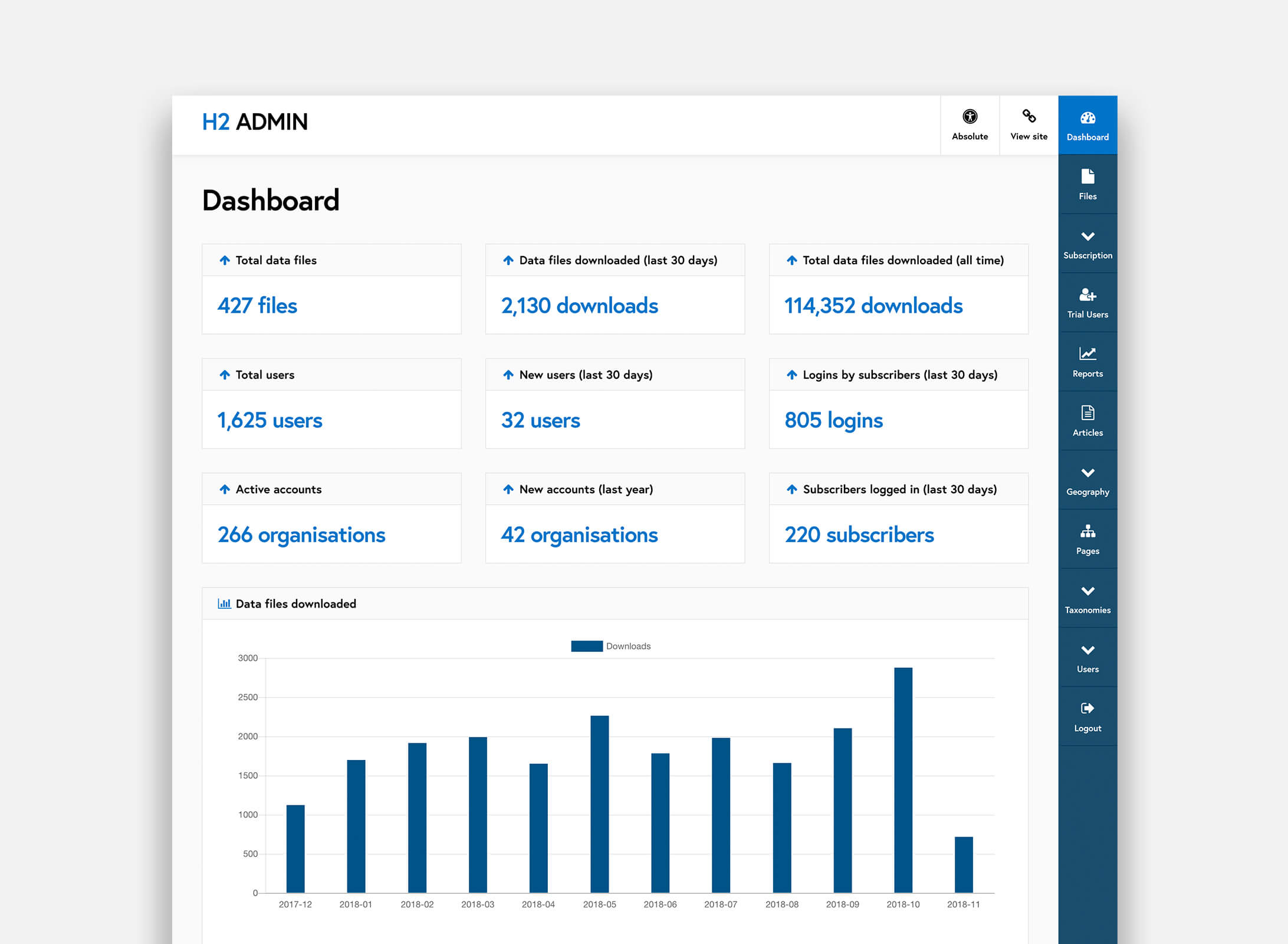 The values shown above are not an accurate representation and have been changed for confidentiality purposes.
Notifications / Newsletter
With the fast moving nature of the gambling market, data is constantly being updated by the H2 team and to help keep their users up to date they send out a weekly newsletter summarising updates. To make this process as smooth as possible we built the email generation into the system so it integrated seamlessly into their existing workflow. We did this by providing them with an option to flag something for the newsletter when updating a file and provide a short text summary of what is being highlighted.
As well as the weekly newsletter, we also built a notification system into the subscriber area that allows users to receive relevant notifications. This could include global announcements from H2, when a followed file has been updated or, in the case of organisation admins, alerts about subscription renewals if required.
Conclusion
Absolute Control allowed us to build a tailor-made solution for H2's unique requirements. An off-the-shelf solution might have meant making compromises on functionality or required them to make adjustments to their existing workflows. Absolute Control has become a seamless part of their workflow, and has instead reduced some of their workload through automation.
If you want to find out more about our work with H2, check out our detailed project case study. Alternatively, to find out how else we used Absolute Control to deliver a bespoke solution for another one of our clients, Incorez, read our first Absolute Control Spotlight blog.
If you would like to talk to us about how Absolute Control could help you get the most out of your digital presence, please call us on 01204 669566 or send us a message through our contact form and we'll be in touch.