01 / 09 / 2010
Google Adwords & pay-per-click
What is Google AdWords and how does it work?
With Google AdWords™, you'll be able to reach your customers at the precise moment they're looking for your products or services. When users search on Google, they're demonstrating which products they're interested in. With AdWords ads, your customers will see your ad next to relevant search results they've requested. So instead of looking for an audience, you've got an audience that's looking for you.
In addition, your ads could also appear on relevant search and content sites within the Google Network. The Google Network reaches more than 80% of Internet users worldwide. You can even designate a geographic target area for your ad.
AdWords advertising lets you:
Target your ads specifically to people who are looking for your products or services.
Avoid showing your ads to users who aren't likely to purchase from you.
Obtain the maximum return on your advertising investment.
What do AdWords look like?
Google AdWords are displayed in two areas of the results page. They provide eye-catching and specific advertisements that are tailored to the keywords typed into Google's search engine.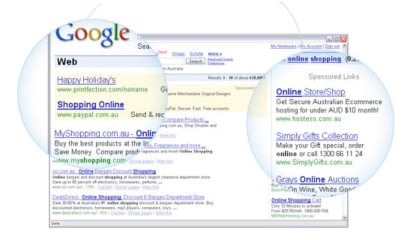 No minimum spending requirement
You decide what you're willing to pay for each click on your ad, and you place a limit on what you'd like to spend each day. And remember, you only pay Google when people click on your ad. That means you're investing in definite leads, not hit-or-miss ads.
With Google's precise targeting and your ability to control how much you're willing to pay per click, the end result is a higher return on investment for your advertising budget. Account monitoring and optimisation. You may choose whether to monitor the campaign yourself or contract Absolute to maintain the campaign on your behalf.
With online tracking tools, we can keep a close watch on their effectiveness to determine which of your ads are generating the most clicks and which are converting to sales, leads, sign-ups, downloads or page views. Your AdWords ads can be continually altered and refined to drive even better results.
Absolute can:
Help you design and manage a successful advertising campaign to deliver a positive return on your investment.
Take the hassle out of the account setup, constant optimisation and regular reporting.
Deliver a simple solution to utilising search engine results that can only be mastered through experience.
Absolute is launching a series of free seminars to help people understand the power of online marketing. The first seminar will cover:
Search Engine Optimisation (SEO)
Online PR
Google Analytics
Google Adwords