12 / 08 / 2021
The journey to building a better brand
Stunning, admirable and unexpected. All words that come to mind once you step foot inside a Redrow show home. Inspired by traditional 1930's Arts and Crafts style British homes, it's clear to see what makes these new-build homes so desirable.
When we started working with Redrow in 2018, it was apparent that the high quality homes they sell weren't reflected in the brand experience on their developments or beyond. It's here that words like confused, cluttered and dated came to mind. We all knew something needed to change.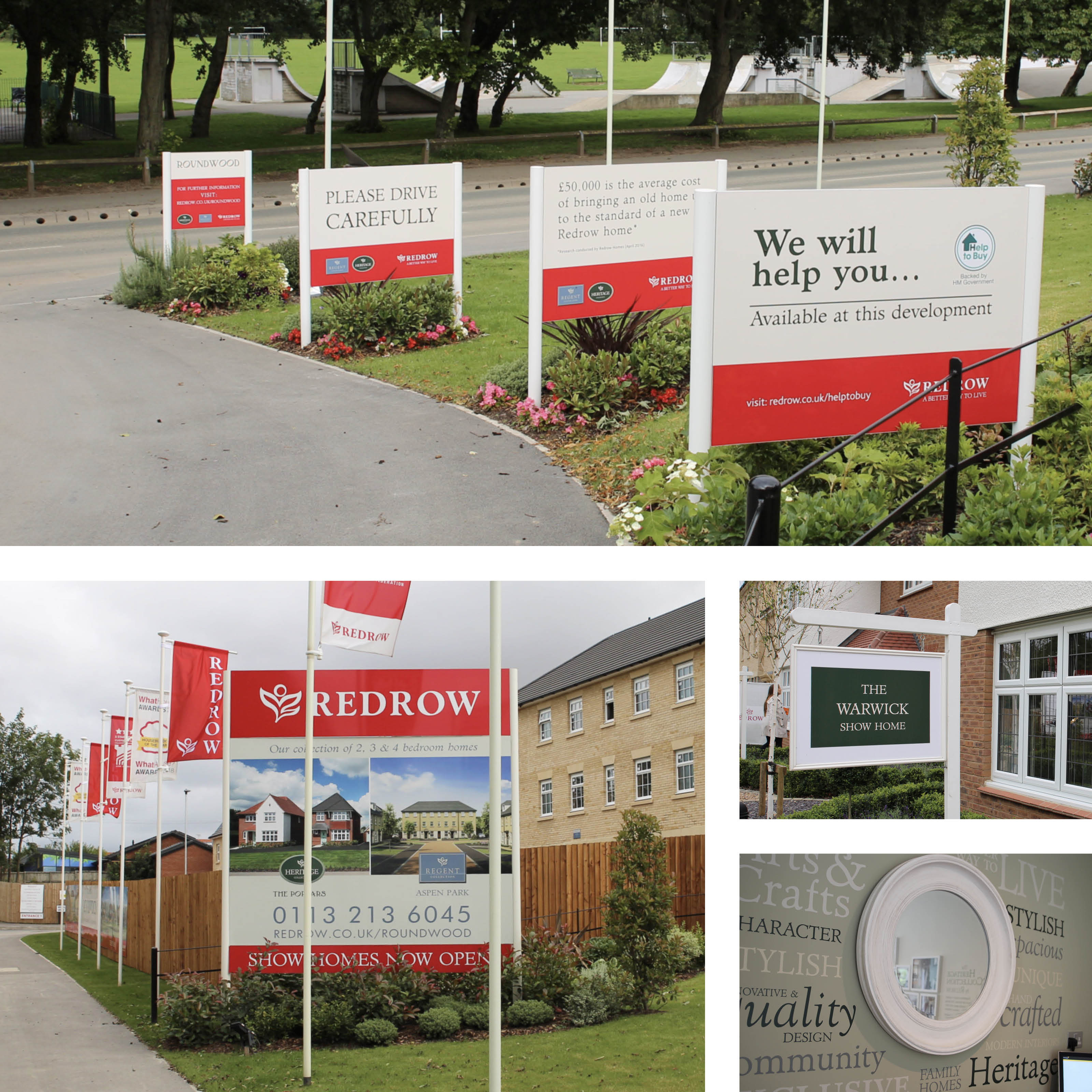 One of the hardest decisions to make when your brand has started to run away with itself, is to take a step back, put all future projects on hold and really analyse how you got to where you are now and outline where you want to be, before the problem becomes bigger.
It's especially difficult when you need to convince an influential board of directors that in reality, the brand needs a complete overhaul. This is not an easy task when the brand appears to be working. After all, they were still selling homes - but could they be selling more?
In order to refresh the brand, we needed to help the Redrow marketing and brand team convince the board that a fresher approach was needed.
Step 1 – Digging a little deeper.
Laying the groundwork is the most important part of a brand project, just like building a new home. Understanding the extent of the brand problem, going out to experience a variety of Redrow developments and analysing who we were up against in the home-building sector were all on our agenda.
After all, how can you fix a problem without fully understanding what is and isn't working in the first place?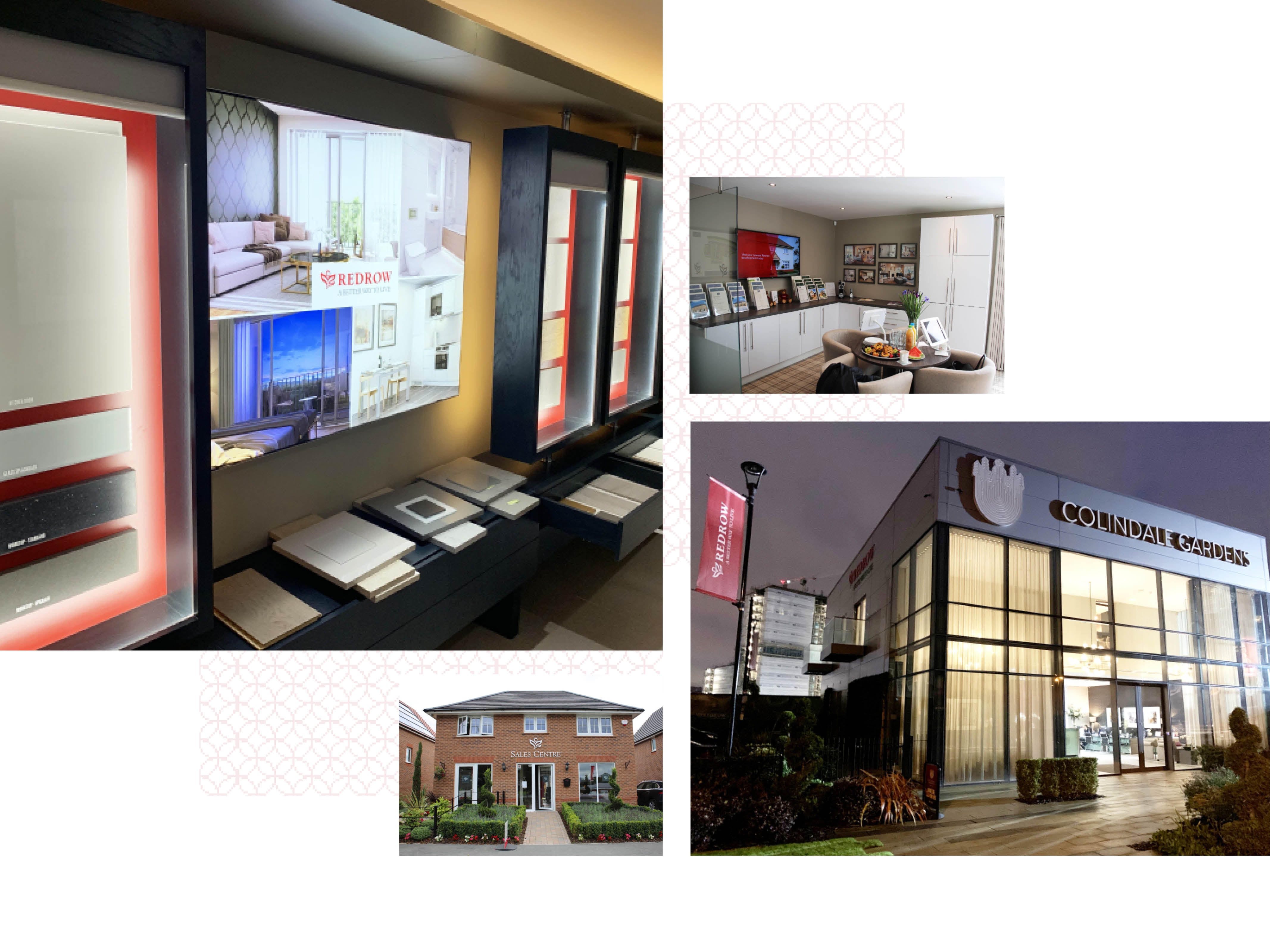 During our investigation, we found that the strapline 'A Better Way to Live' successfully communicates what it is that makes Redrow unique. They're well-known for creating beautiful homes, but they also build welcoming communities and deliver a customer-centric service too. However, none of these key USPs were really shining through.
By placing this message at the core of everything they do, be it brand, advertising or internal messaging, we could help to reposition Redrow as a brand that was focused on selling better lifestyles as well as beautiful homes.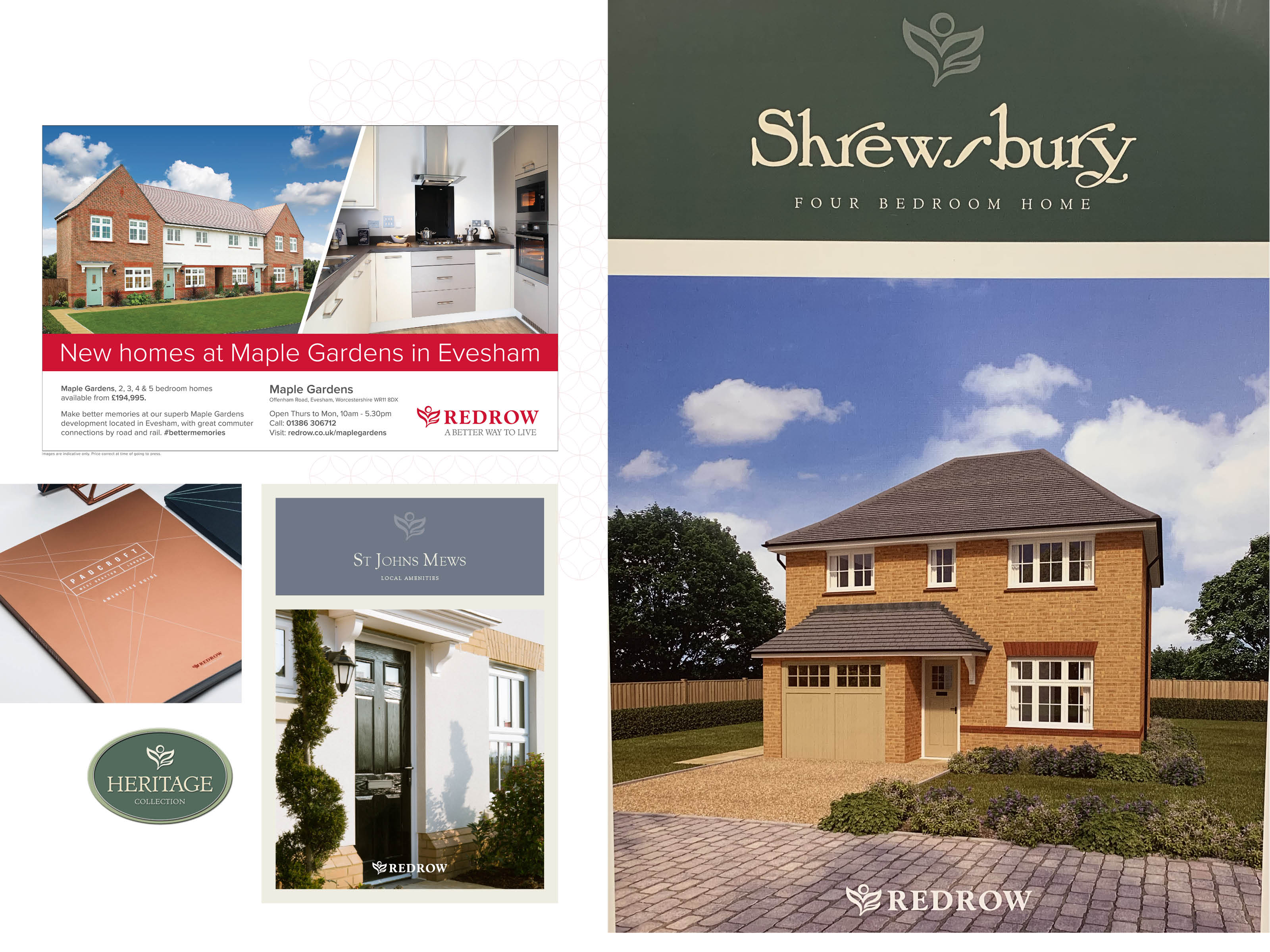 During the brand audit it became apparent that there were too many brand components and it became clear that the problem stemmed from the fact that their home collections were dictating the overall brand. This meant a large portion of their developments didn't look like a Redrow development. All of that history, quality and reputation was being swamped by a collection of legacy typefaces, individual identities and dominant sub brand colours.
Step 2 – Building on knowledge
With a better understanding of the Redrow brand, we were well placed to explain how to correct the problems they faced.
The first thing we did was fix the hierarchy problem. Redrow is a well-recognised name in the sector so it needed to be at the fore-front of its brand and not underneath its products. Owning the Red was also at the top of our priorities, as well as being synonymous with the name, no other large home-builder seemed to be using this colour palette. By removing all typefaces and re-establishing the clean, modern and flexible Proxima Nova, we demonstrated how type can be used to create a brand that is not only confident but also understated and of a high quality. An arts and crafts inspired pattern was also introduced to soften the harshness of the Red.
Getting buy in from the board was crucial at this stage. They needed to see where the brand really ought to be, so we took them on a journey that a customer might make when choosing to visit a development. We demonstrated a new look digital experience a simpler development approach alongside a more cohesive way to present the brand within the customer experience suite and showhome.
Step 3 – Bringing 'A Better way to Live' to Life
With approval from the board we worked closely with the Redrow team to begin to plan how to roll-out the new brand into a real-life environment.
It's worth noting at this stage that the project had to be put on hold due to the pandemic, losing momentum for a couple of months. It was in August 2020 when we finally got the chance to pick things back up with Redrow.
When it came to working on the first roll-out project, we were working week by week via Zoom to launch a new De Clare Gardens development in Caerphilly, Wales. The vision for the customer experience suites had become much more future-focused, leaving behind literature and any hand-outs that would have been offered in a pre COVID world. Instead, a collection of digital screens were introduced to add more flexibility to the brand messaging as well as creating a more personal experience for potential customers.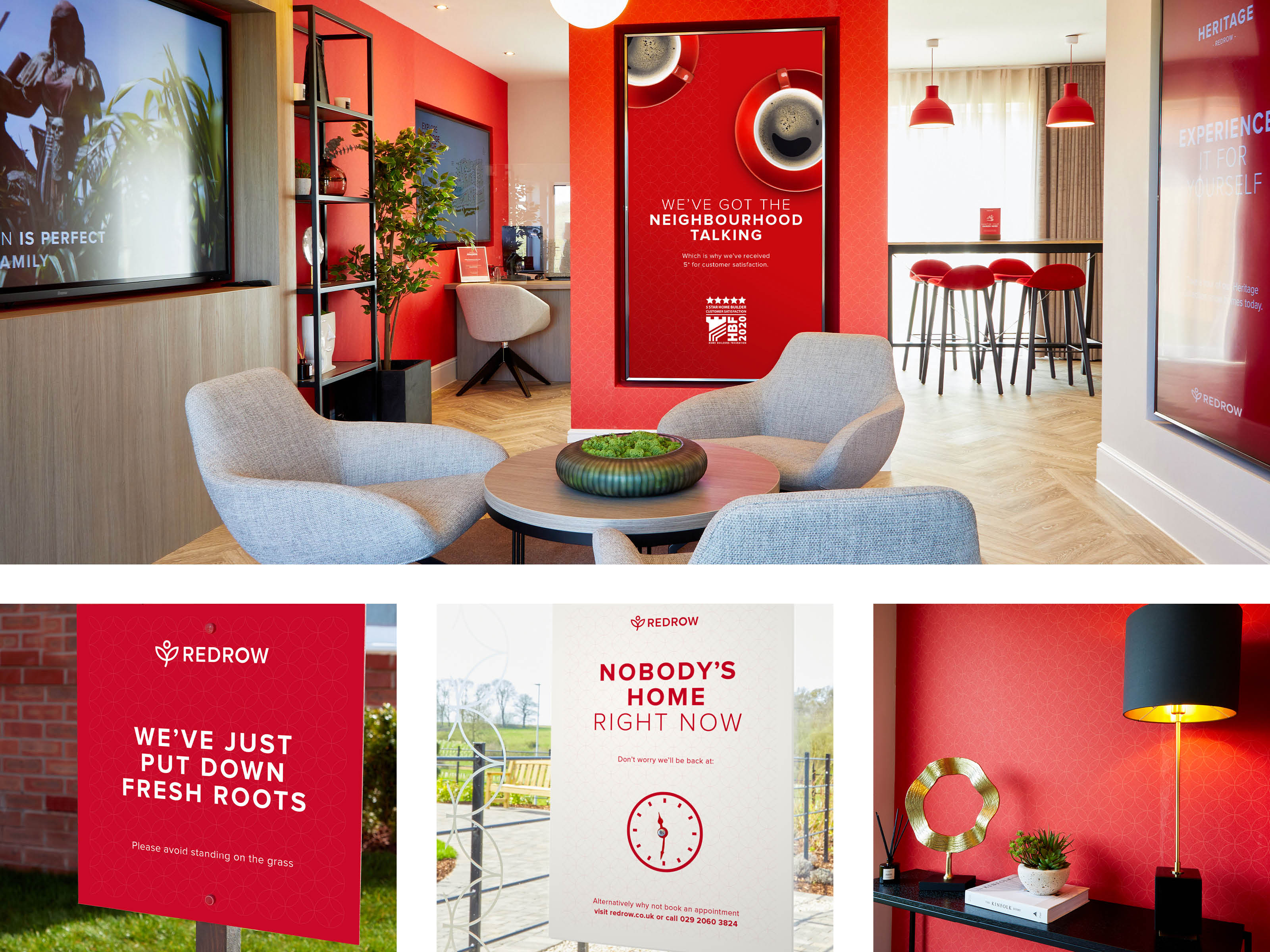 One of the key opportunities which came out of our investigation stage was to introduce a clearly defined brand voice, injecting some more personality into an otherwise straight-talking sector.
It was here where we had the opportunity to demonstrate how the messaging can work, not just on a large scale, but in smaller pieces to add to the customer journey. Adding a little wit to woo.
Step 4 – Building a better home-builder brand for their in-house teams
Redrow's brand is used across a wide variety of messaging platforms and through a great deal of channels too. As brand guardians for the home-builder, we needed to provide a comprehensive guide on how to use the brand properly, in order to avoid the problems they faced before the project began. We were tasked to update the user journey of the brand portal, create guides for not only brand components but for the brand story and application usage too.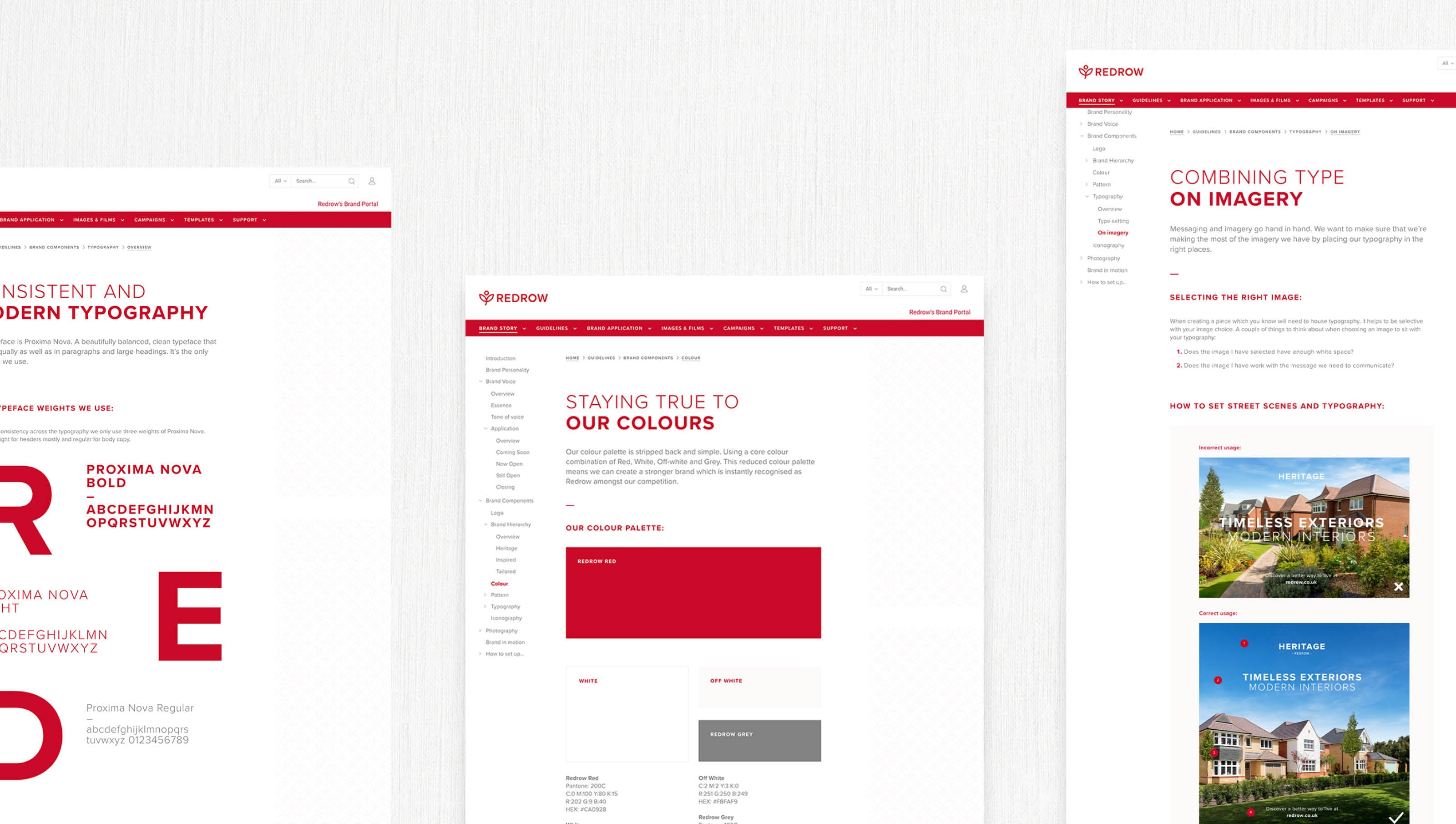 As part of the guidelines we also worked on setting rules for their advertising assets. There were a few components to this project that we needed to focus on.
The first was changing the way that Redrow was speaking to their potential customers. We overhauled their previous messaging and introduced a brand-new, more emotive way of promoting their homes underneath the 'A Better Way to Live' philosophy. This change ran through every aspect of the brand from their home collections, beautiful neighbourhoods and their initiatives such as help to sell.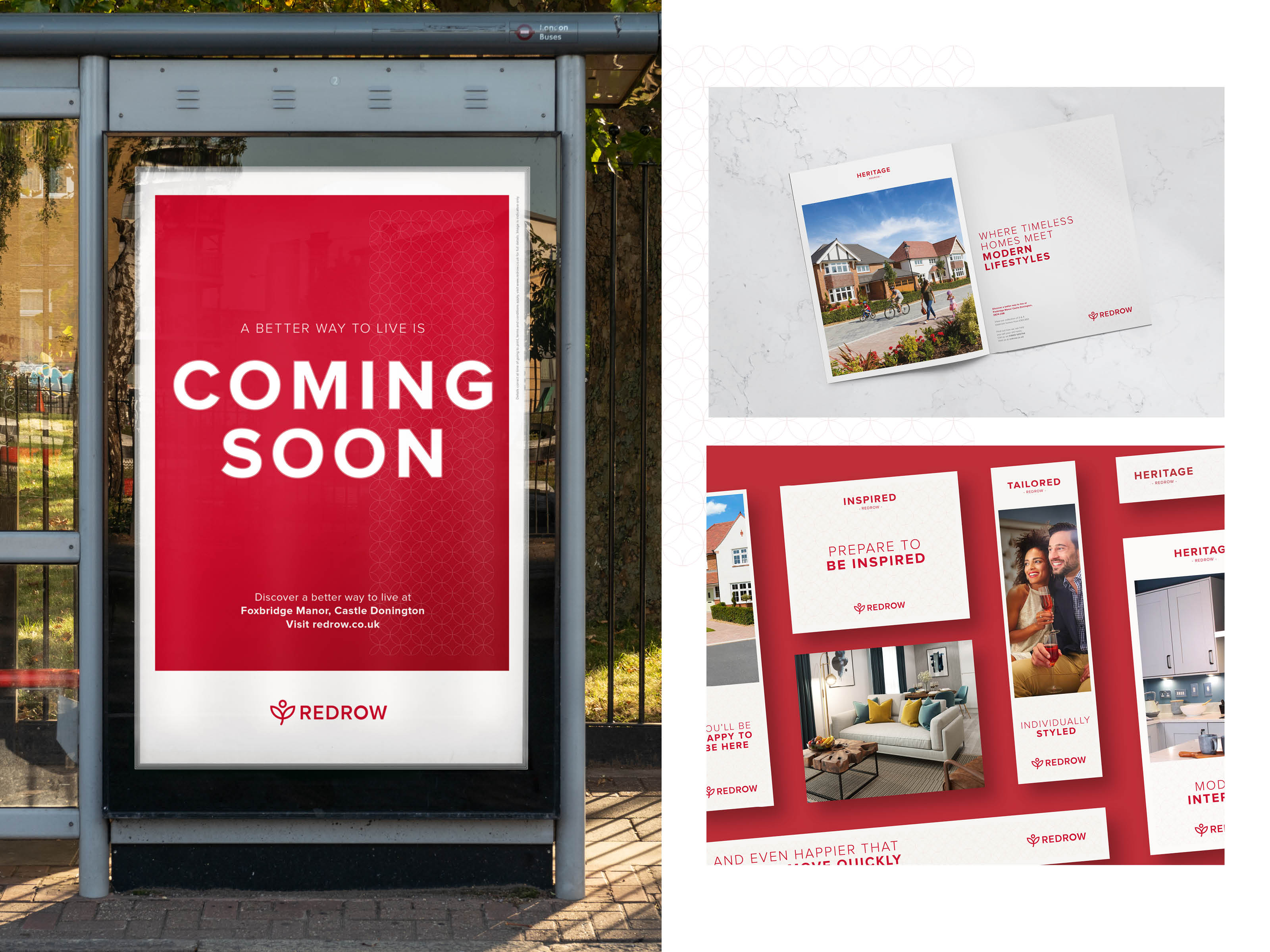 We also strengthened their templates, both online and offline. As they use a system built into their brand portal, we needed to work around the code which was already in place for elements, such as display banners and email templates. One of the points we knew we needed to tackle was the use of imagery. Creating a system which still felt premium but also avoided any potential mishaps was paramount.
A brand refresh is so much more than what meets the customer's eye. When you have such a large team of people behind the brand, their buy-in can be just as important as a potential customer.
We were tasked to help to demonstrate how the brand can be used to speak to staff from a head office perspective, creating environments for Redrow team members to feel at home with the brand. The internal newsletters and powerpoint templates were also updated, used to communicate to staff up and down the country alongside a face-lift for the construction signage too.
Taking it all in
18 months from start to finish, in the same amount of time 3 new-build homes can be built, we completed the brand re-fresh. Working with a large number of team members not just from the Redrow side and their preferred suppliers but also bringing in a team of trusted creatives to help us roll-out the brand too, it really did take a village.