22 / 11 / 2018
School of Thought Diary
Ideas. As a creative they're your bread and butter. The basics. The foundations before you apply the craft and art direction. That's where I like to be when a new job comes into the studio, digging into the brief to unearth a nugget of brilliance. I'd heard of School of Thought through a couple of creatives in the industry, but it wasn't until I'd looked into it further that I realised this was a programme purely for ideas. Perfect!
Entries opened in August and I thought I'd give it a shot, chances are I wouldn't be selected anyway! A month after submitting my application, an email came in to say I had been chosen for the course! Enter an overwhelming sense of excitement coupled with anxiety and nervousness!
This will be the place where I'll be sharing my progress over the next 12 weeks, the ideas, the learning curves along with the blood, sweat and no doubt tears. Each week I'll be sharing what my idea(s) are and what went into each one, the aim of the course is purely ideas. So a word of warning, the executions may be quite crude from time to time.
Entry:
The application process was a taster of what the course would entail.
3 questions, simple enough. This was one of my favourite submissions:
Client: Waterstones
Goal: Get people to put down their devices and pick up a book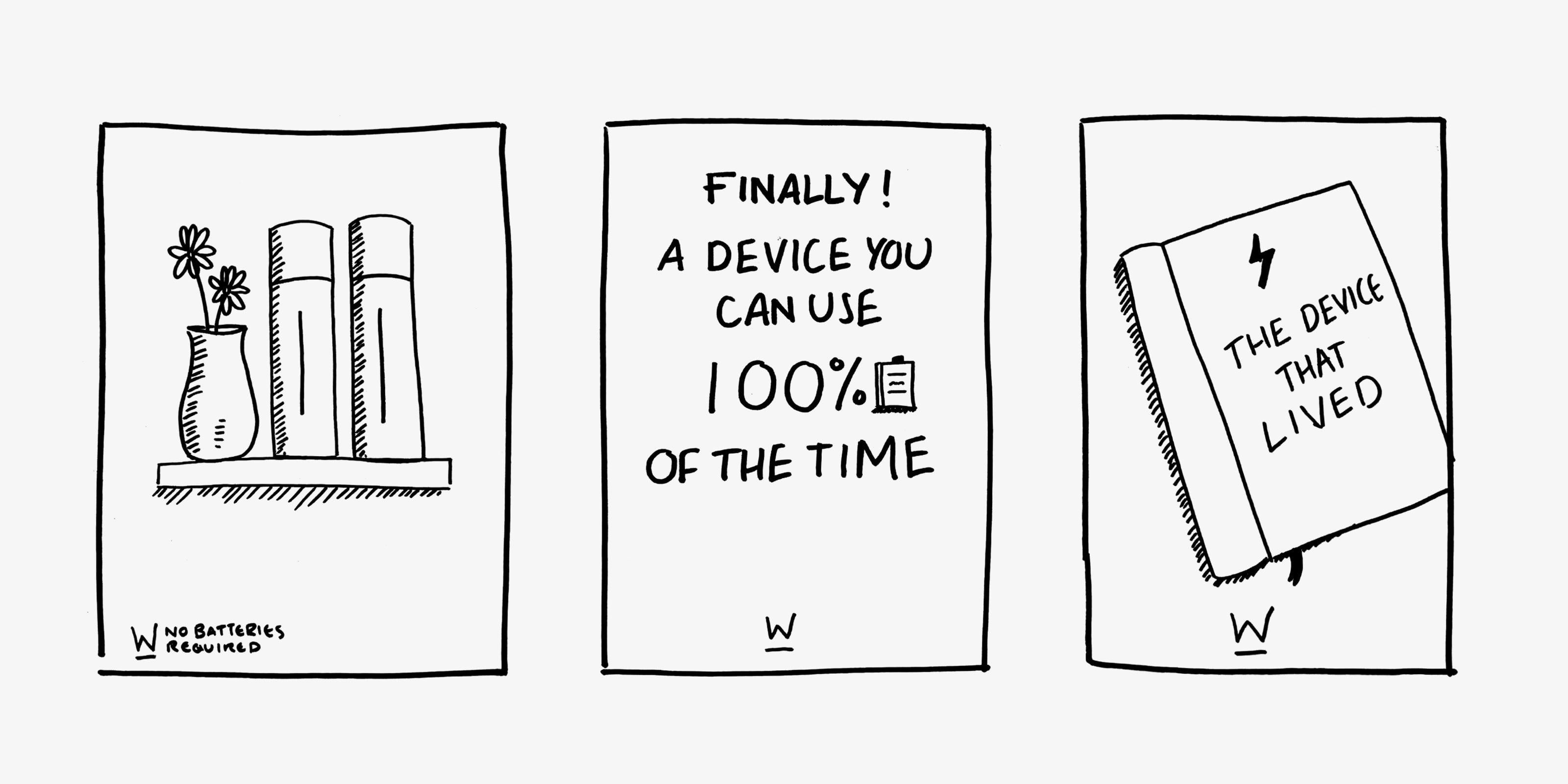 The idea: No batteries required.
Thoughts:
I don't know about most, but there have been times when I've been on a journey and my phone battery has been low. Cue a 2 hour flight with nothing to do other than sit and wait. This idea taps into this problem reminding people that you have no chance of losing battery with a book!
Feelings:
This was one of those ideas which seemed to just come easily, the problem was something I related to and it seemed to go and go! No tears here!
Week 1:
Client: Facebook
Goal: Get distant and drifting friendships closer this Christmas
Agency: School of Thought
Medium: Any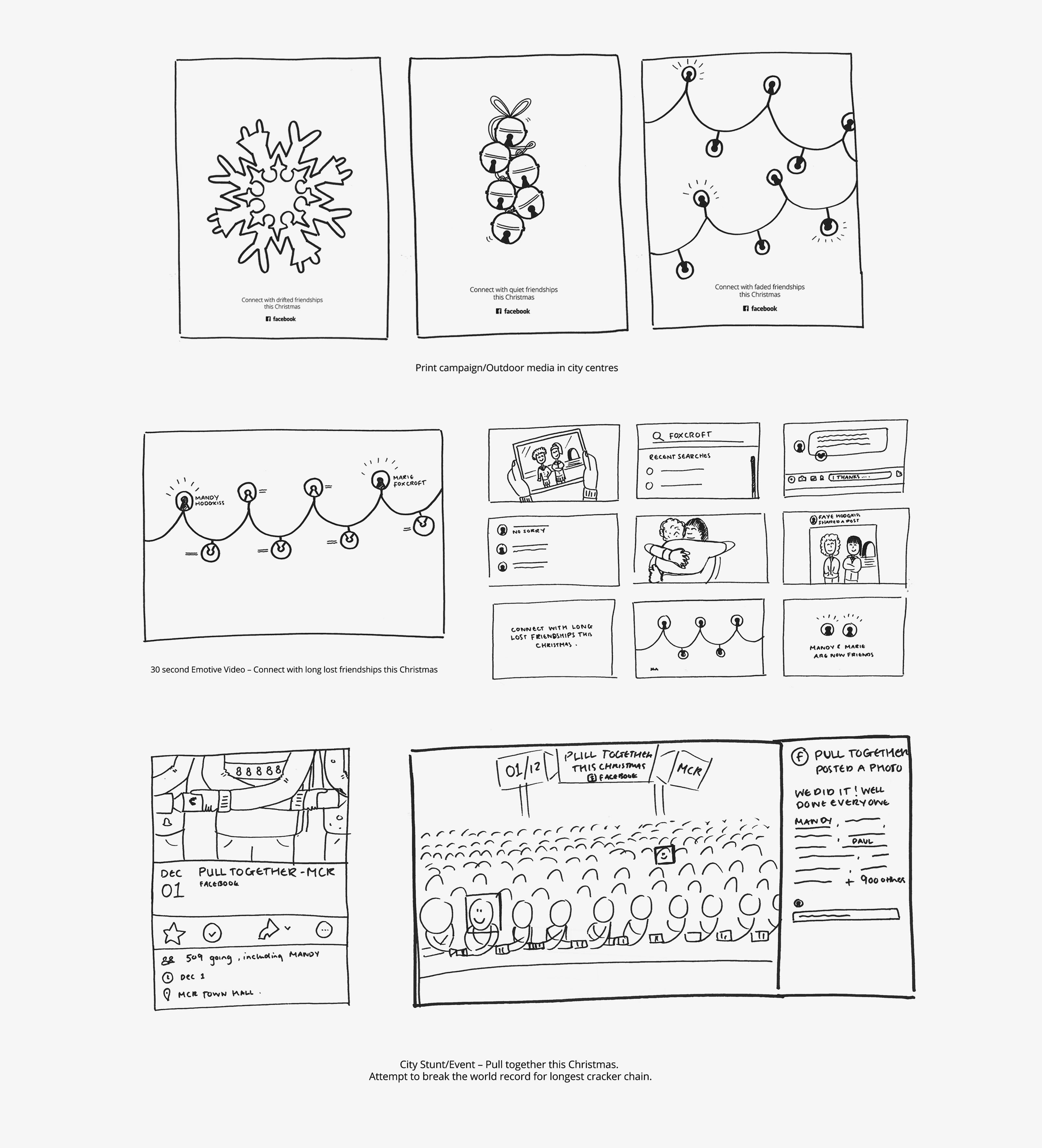 The idea: Connect this Christmas
Thoughts:
I wanted to focus on how you can use Facebook to connect to people you may have lost touch with before the platform was popular. Launching the campaign with teaser posters, in and around city centres and then following up with a 30 second emotive video, which tells the story of two friends who finally meet up again through connections on Facebook. The campaign would then be rounded off with a cracker world record event, in the major cities in the UK or even the world, bringing people together in person. The end result would be a group photo were each face can be tagged in, hopefully creating more connections with old friends, who may not have known they were at the event.
Feelings:
First up! There's nothing more nerve-racking than kicking the whole 12 weeks off! It went well (I think). On reflection the whole campaign is a little disjointed so I'll be looking, for my final submission, to tie everything in together.
Final Submission: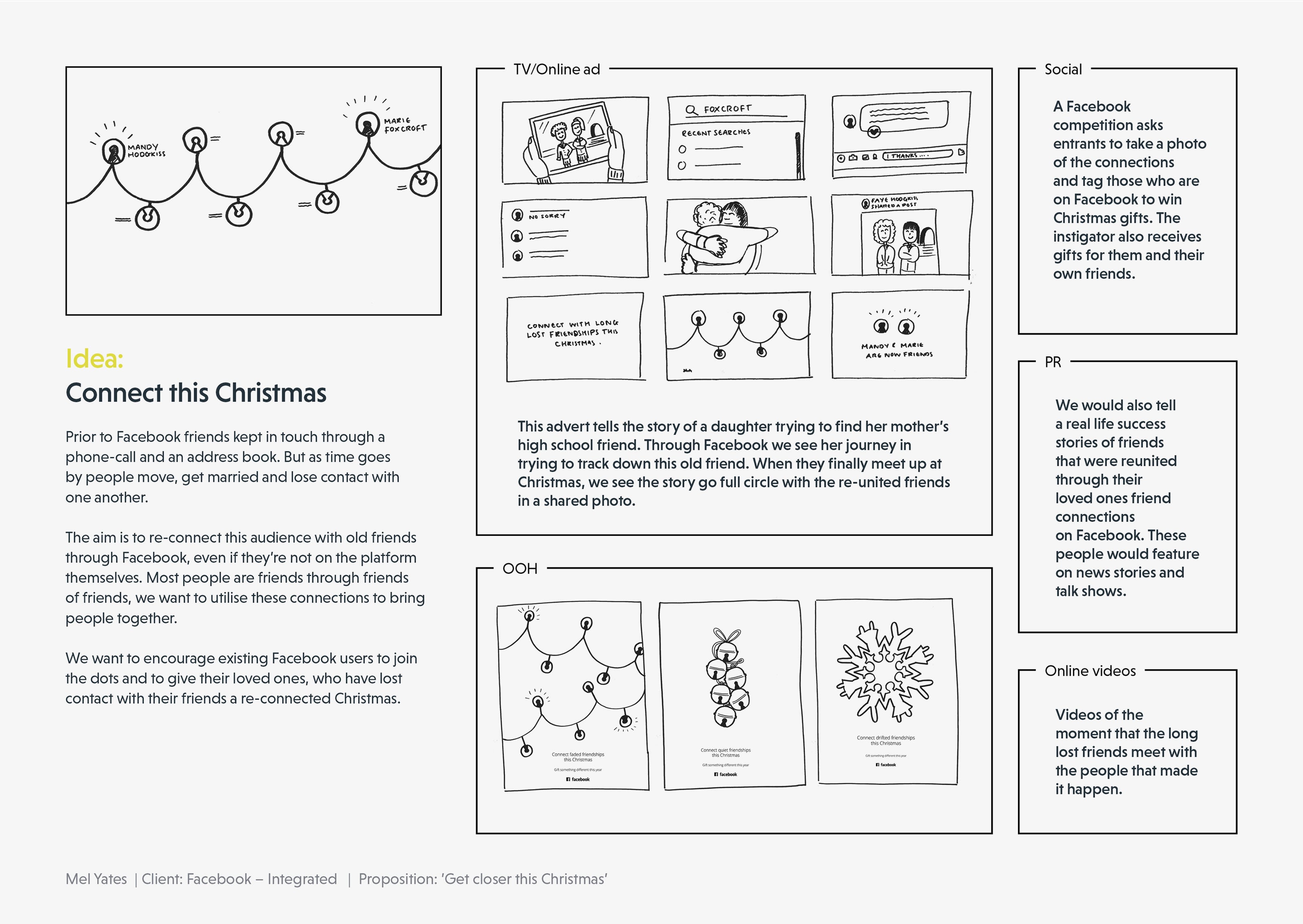 Week 2:
Client: Cineworld
Goal: Get small screen film viewers to the big screen
Agency: E3 Creative
Medium: Digital/Integrated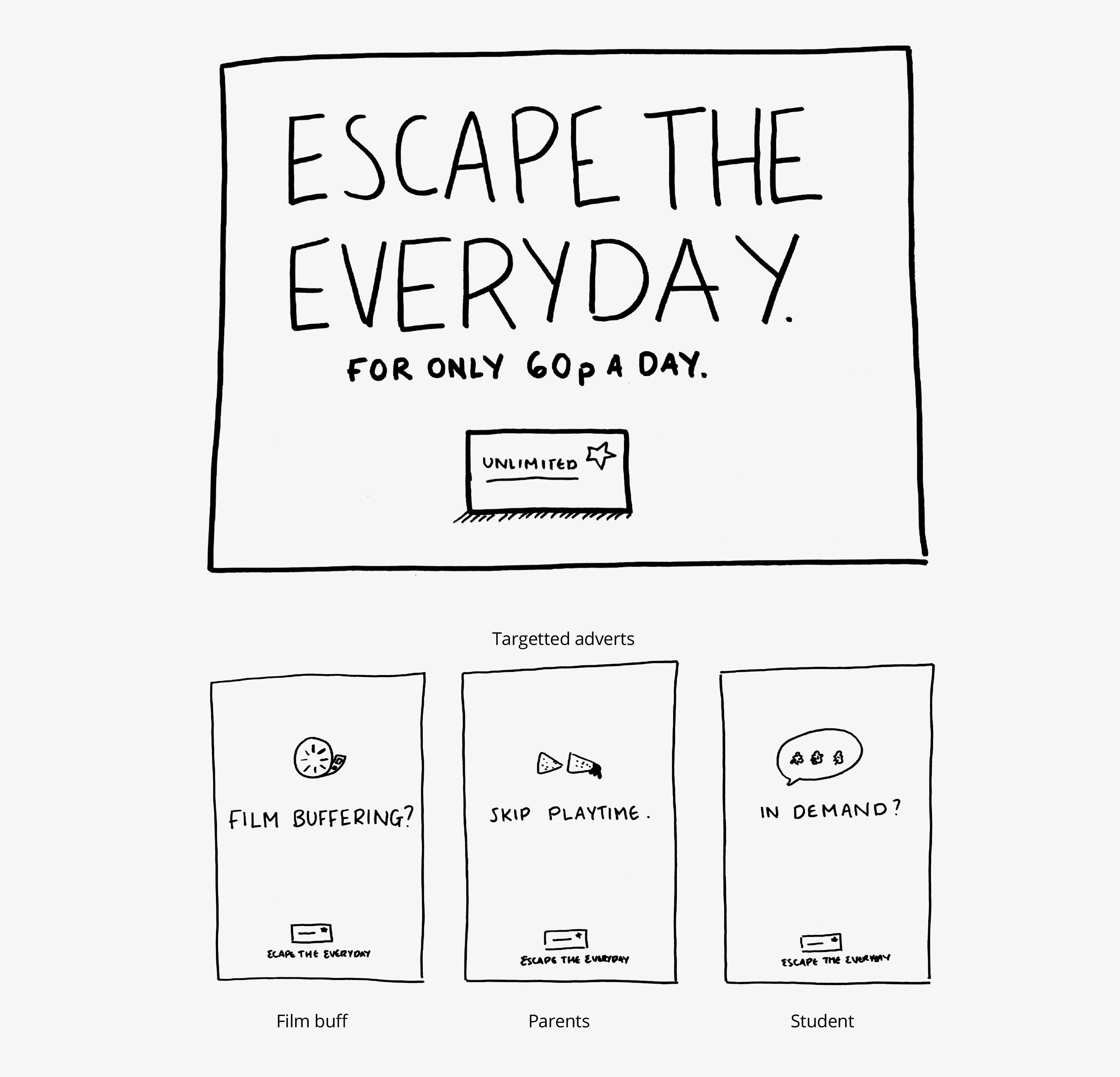 The idea: Escape the everyday. For only 60p a day.
Thoughts:
For this campaign I wanted to highlight the continuous interruptions/distractions you have when watching a film at home, things like notifications, kids, pets and every day life distracting you from fully emersing yourself in the experience. This led me to the line escape the everyday, everyday. But the brief was to get people to understand the value for money of the Unlimited card. So by adding for only 60p a day (roughly £17.50 ÷ 30 days) it reframes the offer to sound much better value for money.
My campaign executions followed an interrupted theme, through online videos, targetted adverts and a trailer takeover.
Feelings:
The guys at E3 were great at giving feedback! Although they liked the interrupted thought process they preferred the simplicity of the line 'Escape the everyday, everyday. For only 60p a day'. Their feedback was to focus purely on that as a concept, back to the drawing board, their feedback is valid and I'll definitely be simplifying the line too!
Final Submission: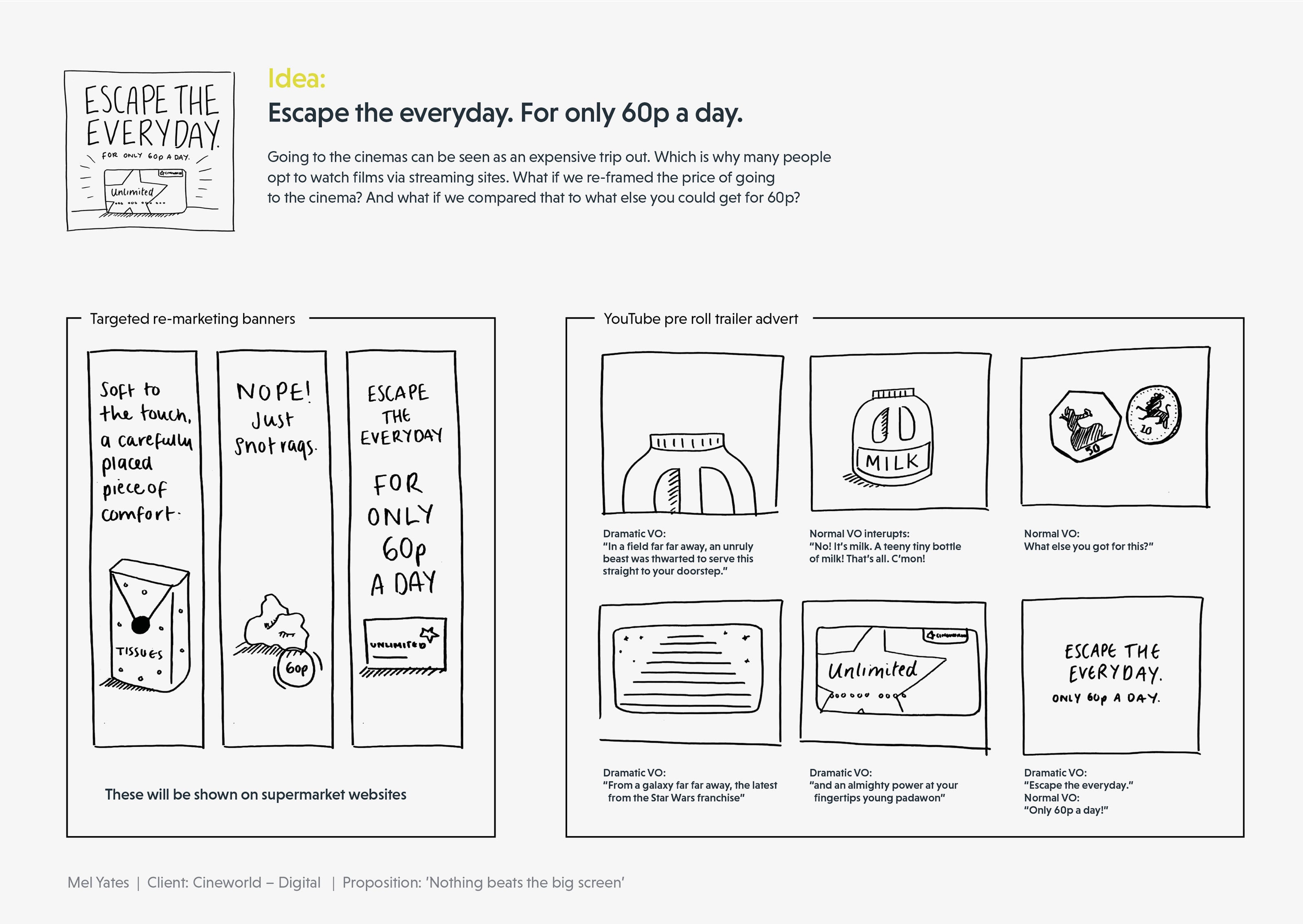 Week 3:
Client: Public Health England
Goal: Find out if your young or old at heart
Agency: Havas Lynx
Medium: Any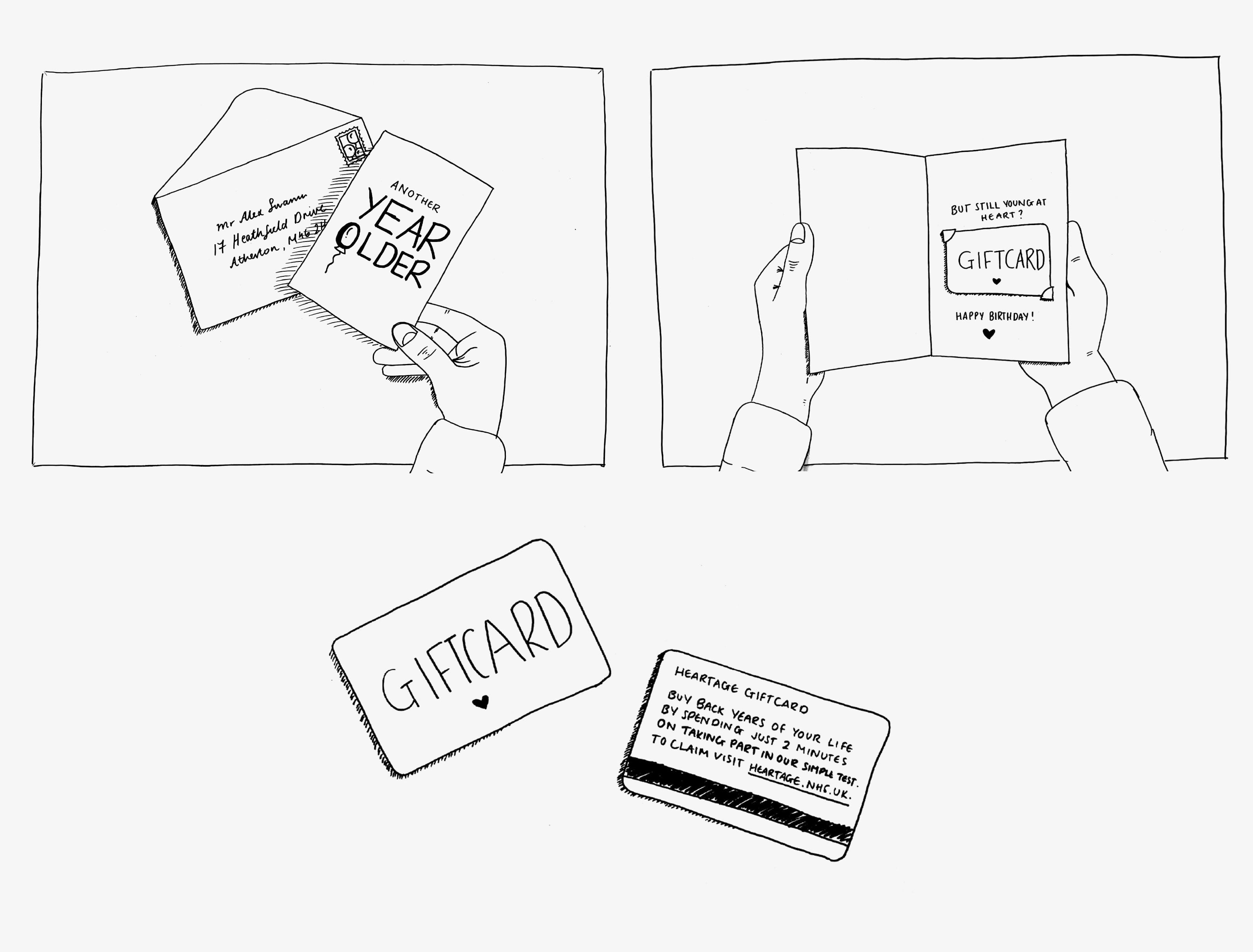 The idea: Another year older...but still young at heart?
Thoughts:
My initial thoughts when thinking about this brief was to capture everyone in the UK, but how do I do that? Trying to find something which we all have in common I settled on Birthdays. As the client will have connections with GPs, therefore date of births and addresses on record, I wanted to send out a Birthday card to everyone in Britain. Using the funny/not really funny at all age cards for the tone of voice, the recipient would receive a handwritten envelope with the card inside, disguising the fact it's a DM piece from the doctor. This would then hold a gift card inside directing the person to a birthday specific landing page where they can take the quiz.
Feelings:
The feedback was good for this concept, they liked the use of the database and the birthday link, although it had already been touched on through some of the other School of thoughters. The guys at Havas suggested to expand on the concept and to push it further. I really enjoyed this week though I feel like I'm starting to think a lot faster and be more confident in my ideas.
Final Submission: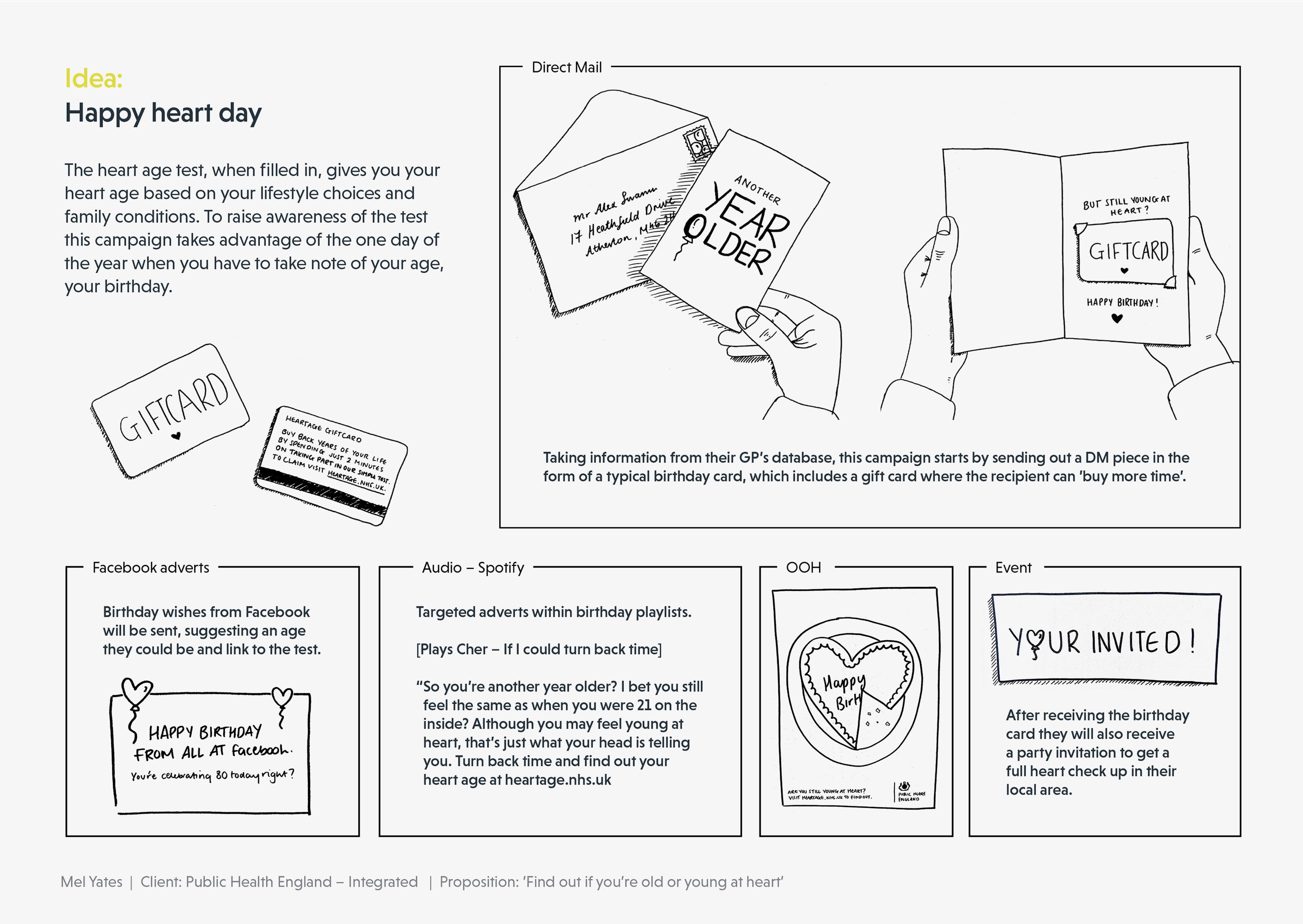 **Retrospective Klaxon!!**
Right, so this is the point where I started to fatigue a little bit… I mean week 4 is a poor effort to not be able to keep up with a blog?! That being said it does takes its toll, Mondays through to Thursdays suddenly become a giant brief filled blur. The course definitely puts you through your paces, but it is so worth it.
I'll just pick up where I left off, with a post School of Thought brain on…
Week 4:
Client: Pen Heaven
Goal: They'll never expect a handwritten letter
Agency: Audio Always
Medium: Audio
The idea: Silence your keyboard warrior
Thoughts:
I wanted to get to the reason why you would write a letter to someone, you put a lot of time and emotion into inked words on a piece of paper. So what's the opposite of writing a lovely letter to someone? Angrily typing a message on a keyboard. Hence the keyboard warrior idea. Through dramatic music I wanted to re-create an intense dramatic battle which contrasted with the calm of a pen gliding on a page.
Feelings:
This was one of my favourite weeks. I'd always disregarded audio advertising and put it under one umbrella which sits on the local radio playing crap jingles. I was by far the most nervous presenting this however, trying to re-enact a battle out loud without any sound is unnerving! I felt like this one did go pretty well!
Final Submission: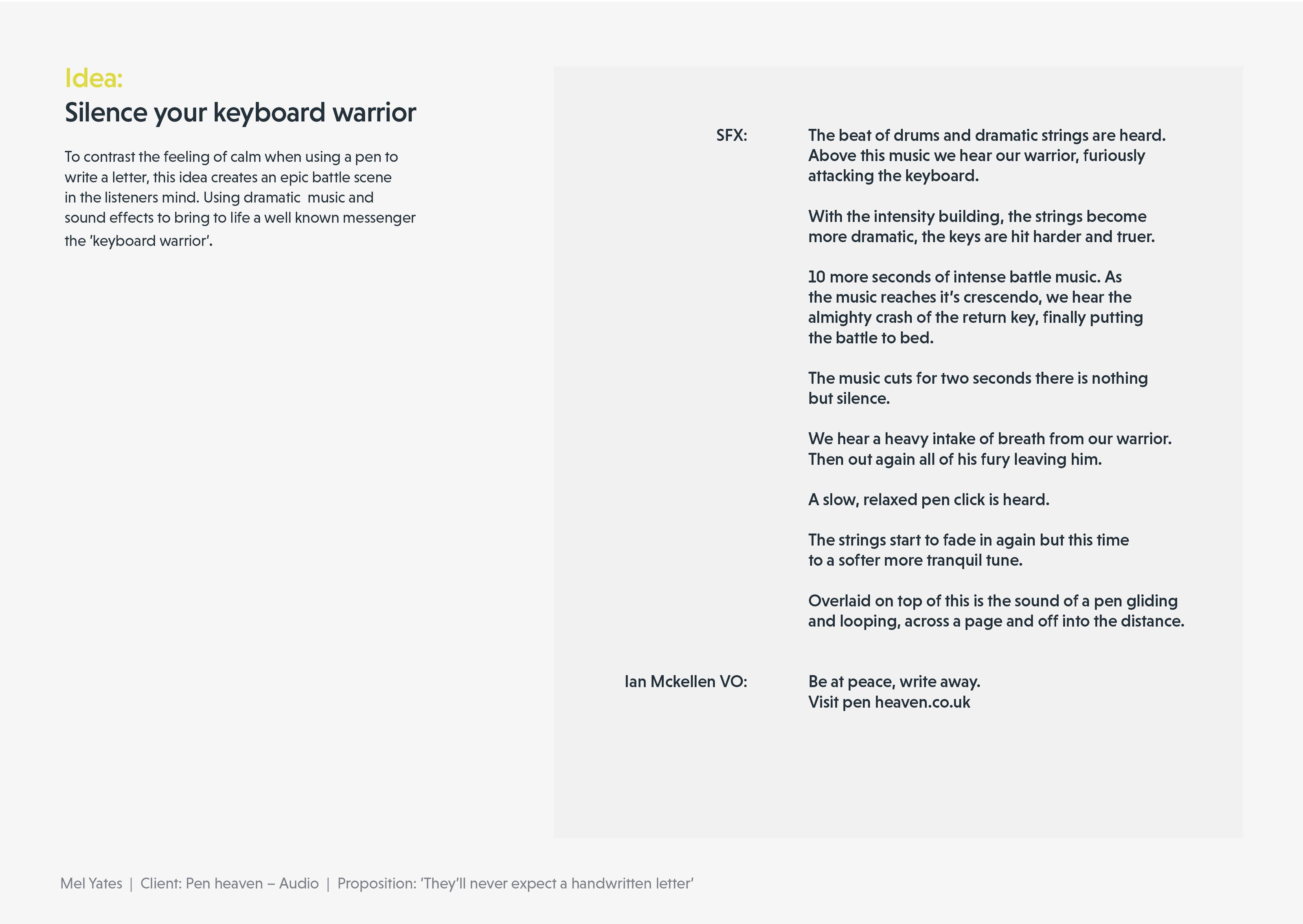 Week 5:
Client: Propercorn
Goal: Tastes naughtier than it is
Agency: TBWA
Medium: Integrated
The idea: Great tastes. Guilt free
Thoughts:
I really struggled with this week. I had a continuous battle in my head, don't make it sexy, don't make it sexy. For whatever reason I'd decided I just didn't want to do that. How else could I bring the naughty element into the campaign, when the product isn't naughty at all? I wanted to focus on the holiest members of society to create a theme around religion and how you may feel like you need to cleanse yourself from all sins.
Feelings:
This was the week when everyone stepped up in the competition, presentations were all great! I had some great feedback from TBWA and knew it needed a little more thought from my initial presentation.
Final Submission: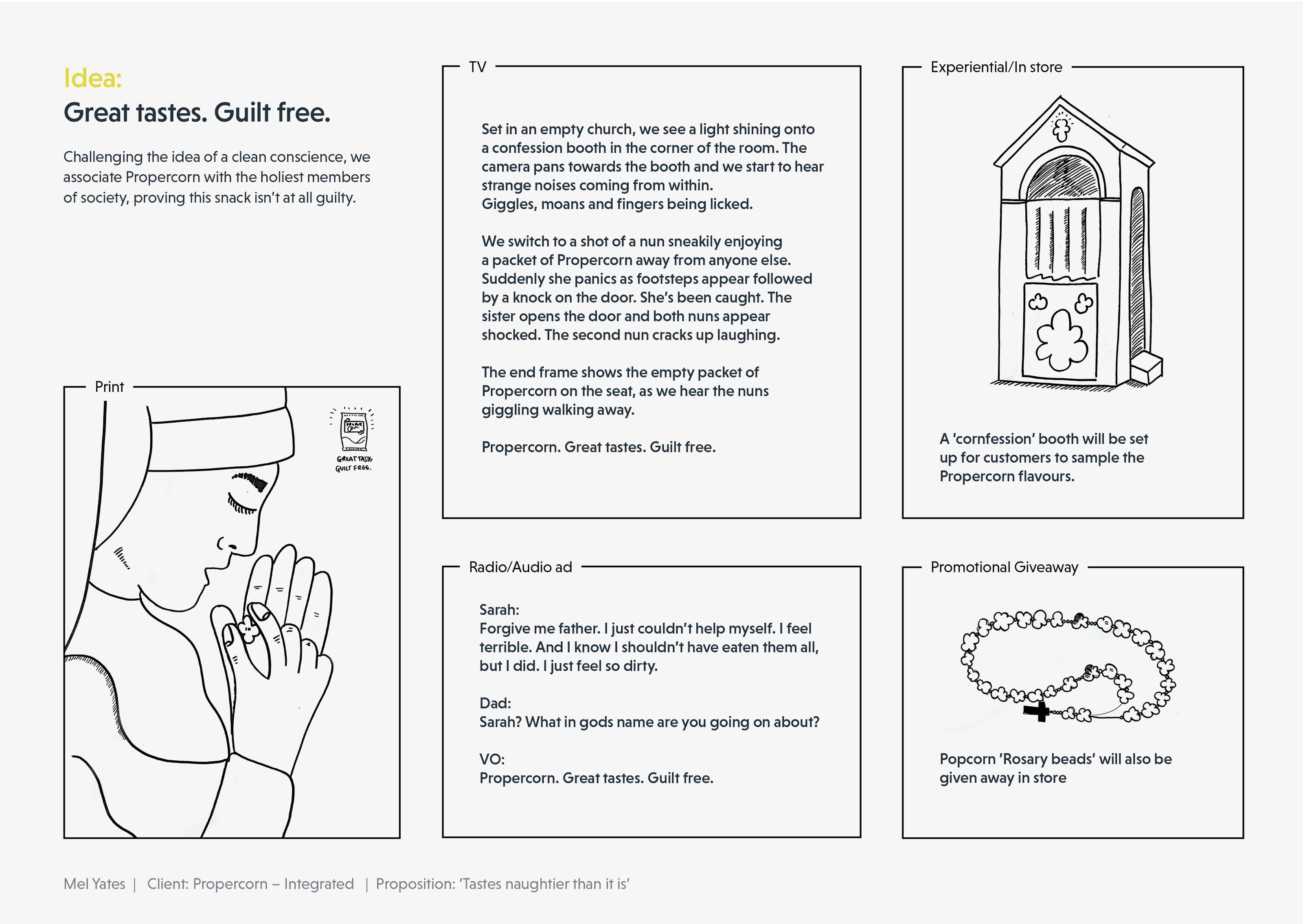 Week 6:
Client: Artlist
Goal: Sounds nothing like stock music
Agency: UPPB2B
Medium: Direct Mail
The idea: Curators of visually stunning stock music
Thoughts:
With this week, I wanted to make the name Artlist memorable and be the first name in stock music that comes to mind. Taking the cue from art, I created a direct mail piece which delivered the sounds to film makers offices' in a bespoke piece of artwork which they can listen to, and hopefully have up in their studios.
Feelings:
I went last this week, after the UPP guys encouraged us all to feedback on each other, I was slightly nervous I was going to get a ribbing back! The idea held up and I survived! Thankfully!
Final Submission: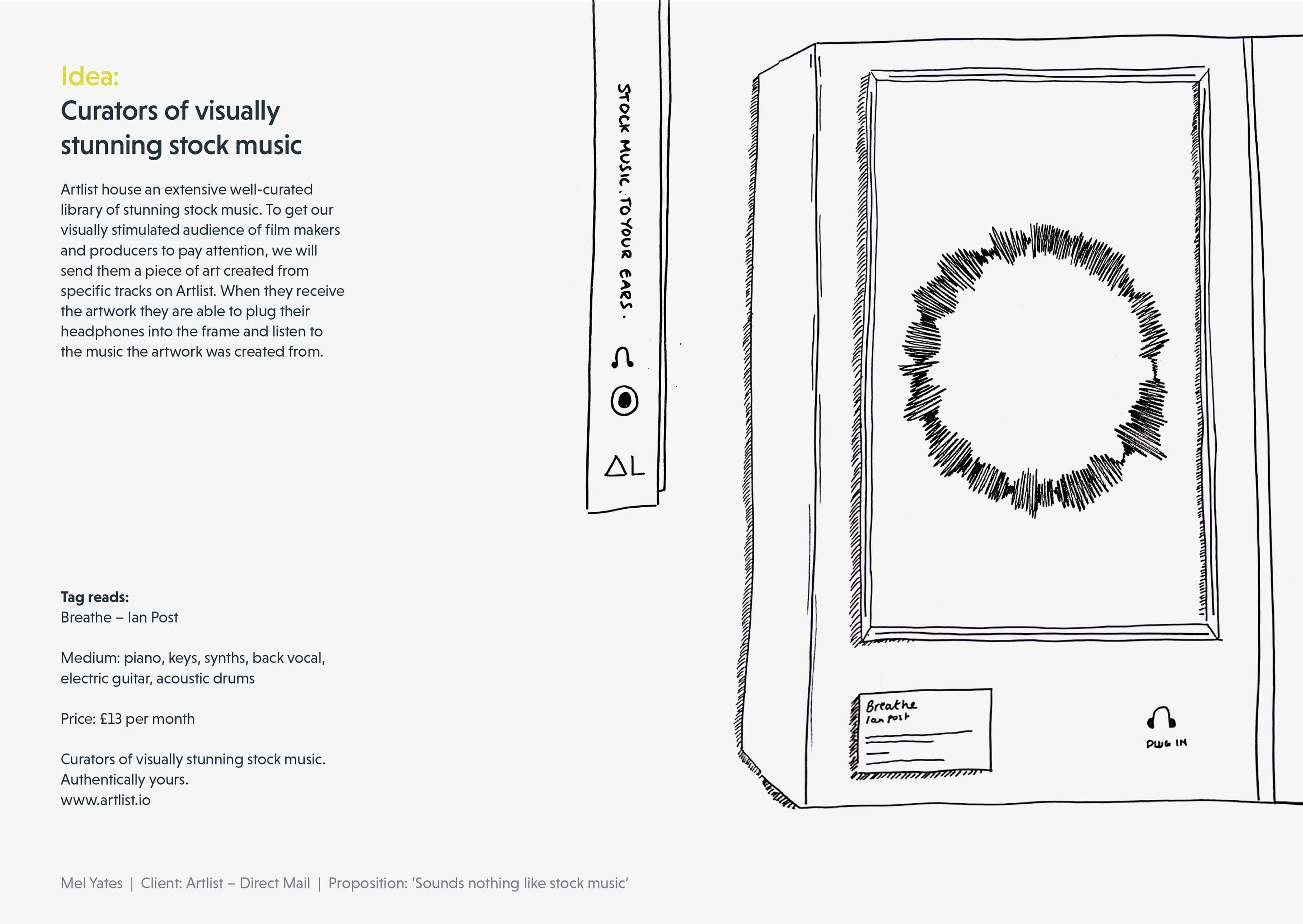 Week 7:
Client: YouTube
Goal: It's OK to change your mind
Agency: BBC
Medium: TV
The idea: Change up your mind
Thoughts:
This was an interesting brief, I think it stumped a few of us, myself included. It was a brand awareness advert to deliver the proposition, based around YouTube starting out as a dating site (who knew?!) that sometimes greatness comes from changing your mind. I focused on a time when it's acceptable to change your mind constantly. And settled on childhood careers, from the conventional to completely irrational. I wanted to bring to life the 'flip flop' mind of a child and connect that with the wide variety of content found on YouTube, you can literally see anything that you want to see.
Feelings:
Going in blind on this one, the only week I couldn't make the presentations! Gutted! So it was pretty surreal to put this into the submissions and really had to go with my gut and hope that my idea was a good one! I've still got the song to this one stuck in my head!
Final Submission: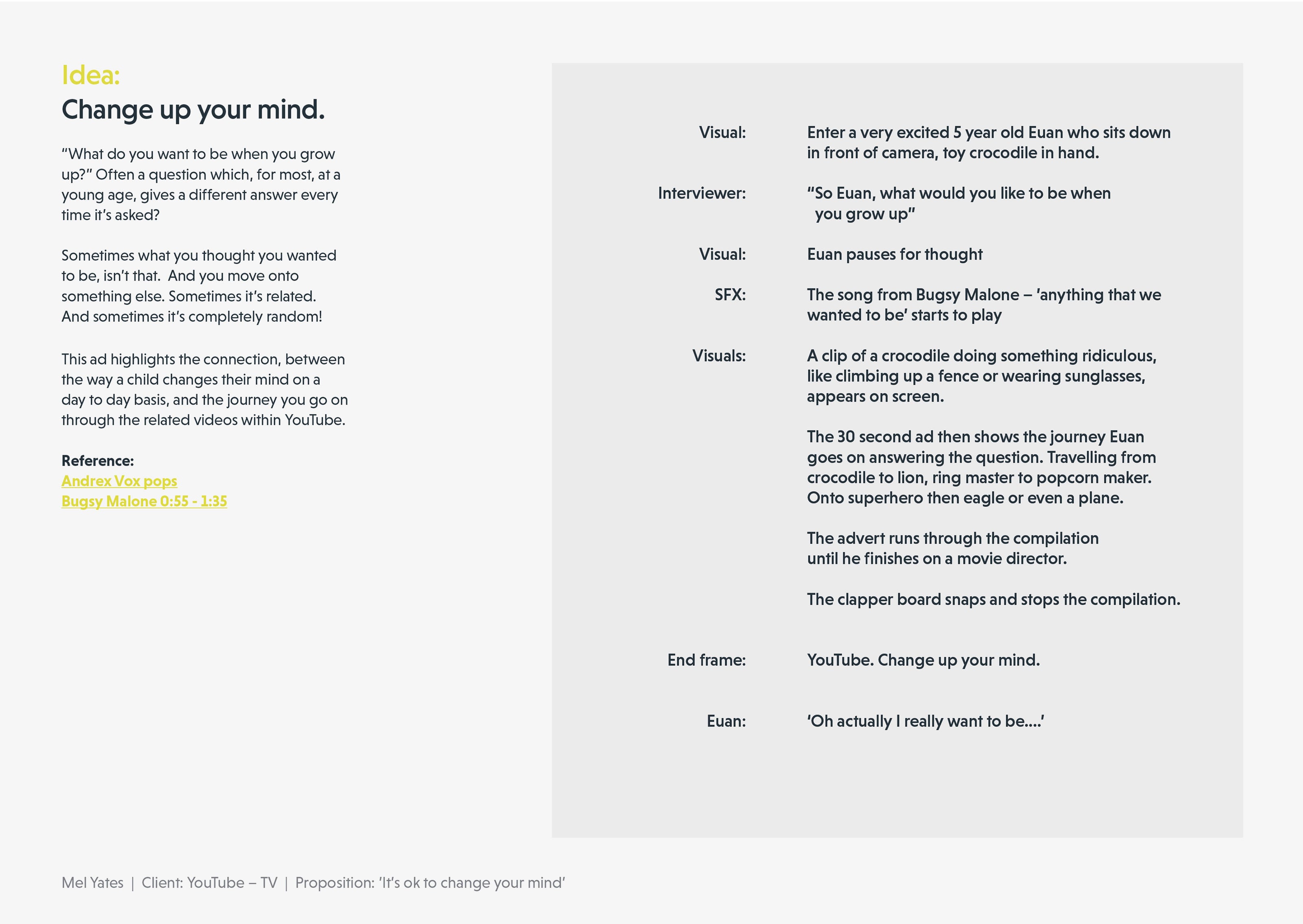 Week 8:
Client: Nokia
Goal: The phone with memories built in
Agency: AmazeRealise
Medium: Digital
The idea: Recall an old friend
Thoughts:
What a great brief!? Nostalgia highs on this week. I wanted to hone in on the noises. Then I focused on snake, obviously! And landed on a secret code that only Nokia 3310 users would remember.
Feelings:
I initially presented an idea which was based around a secret language within the keyboard and texting (7777 = S etc.) Although I liked the idea I had to bin it off, it was far too confusing and asking too much from the audience. Instead I submitted a hotline idea where you can ring up the number (which spells NOKIA, in the secret language) to listen to various sounds associated with the phone and era. Not my best piece in here truthfully!
Final Submission: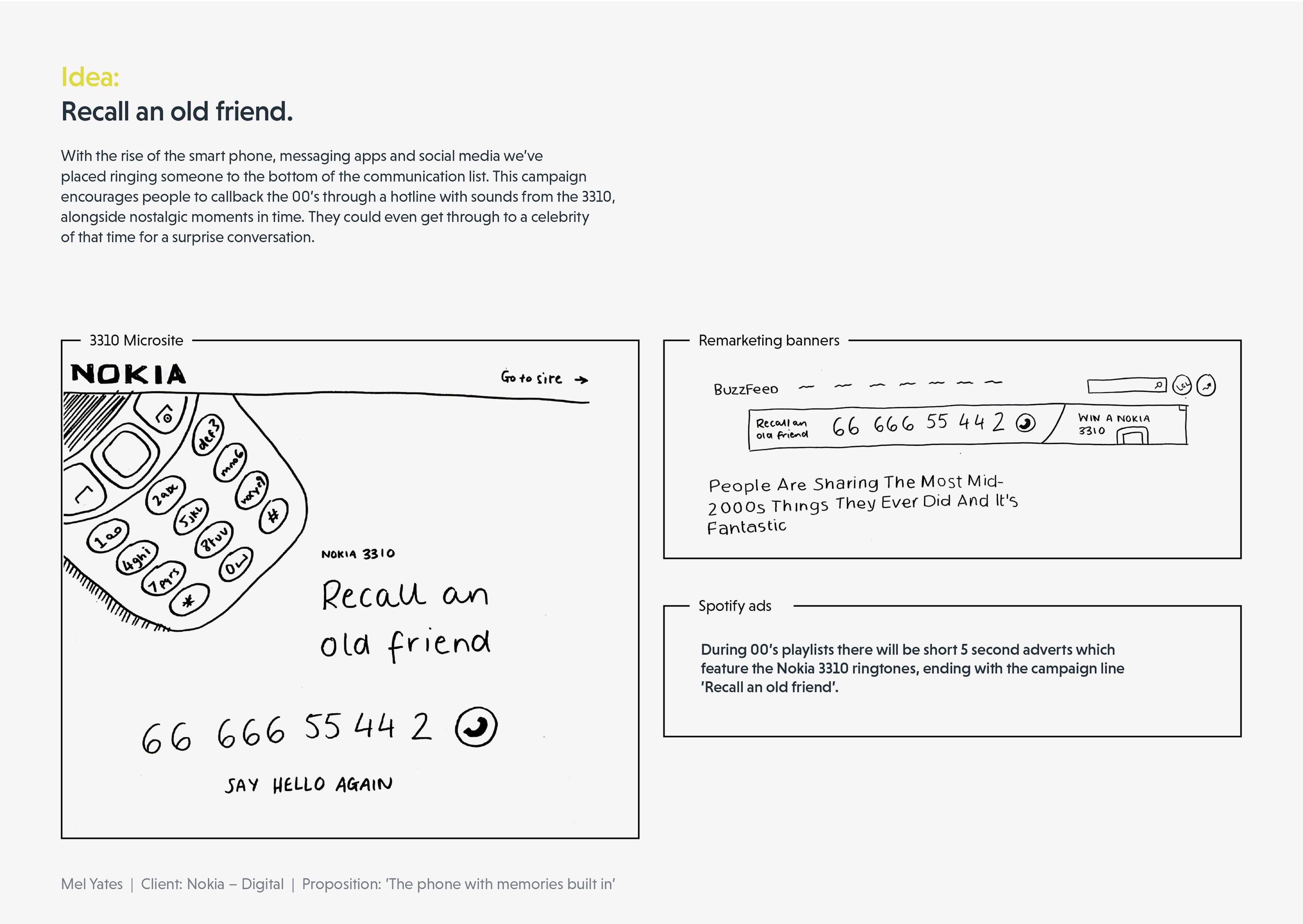 Week 9:
Client: Brompton Bikes
Goal: Cycle without the sweat
Agency: McCann
Medium: Press
The idea: Power through the commute. No sweat.
Thoughts:
Brompton already have a huge cult following, the distinct shape of the bike makes it a modern day icon. I felt that I could get away with showing the bare minimum of the bike in these ads.
Feelings:
Up to this point I had never presented more than one idea, I wanted to teach myself to settle on one strong idea and really back it. This week however, I changed tact. I presented five press ad concepts, some focused on the electric element, some on the sweat element. There was a strong contender for the best one which I entered. I would be tempted to submit this or at least create the ad but I do love two-in-one adverts! Maybe that's why!
Final Submission: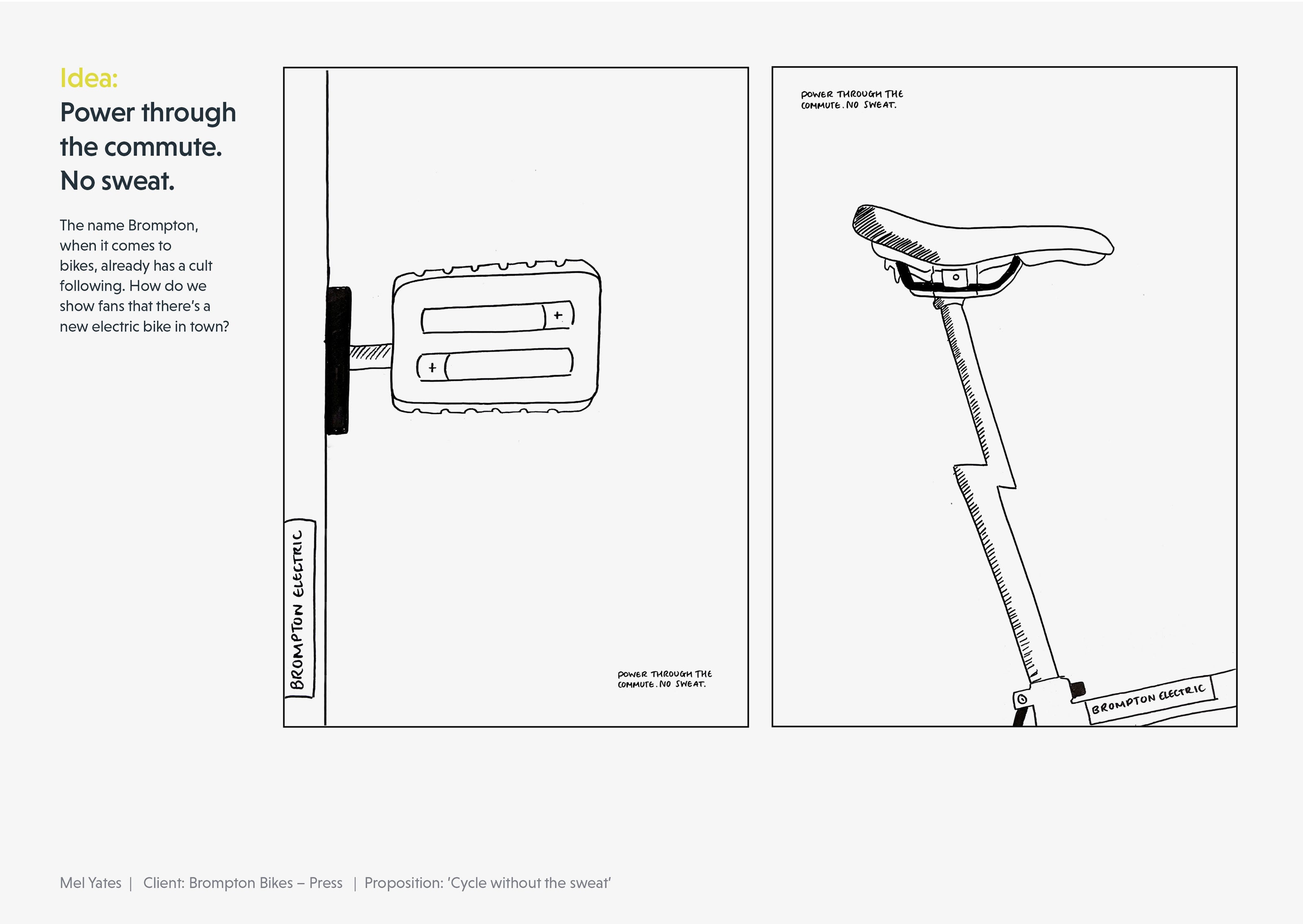 Week 10:
Client: PetPlan
Goal: Looking after your four legged family members
Agency: MMP
Medium: OOH
The idea: Protect yourself from painful vet trips
Thoughts:
I immediately turned to my mum and dad for inspiration for this. I know they love the bones of their dog and I was surprised to find out that they don't have pet insurance for him. My mind went to getting across the message of how painful vet trips are when you have insurance. Couple this with vet fees on top of these visits it's easy to feel the pain yourself. I wanted to create an image which tied the pet world with the owner, the cone of shame!
Feelings:
More than one idea was presented this week, across the wall there was a fair amount of pets, but there was a couple which didn't and this idea one was one of those. It gets the message across straight away without asking for too much time from the audience, and hopefully gets them to think differently about pet insurance.
Final Submission:
Week 11:
Client: Las Vegas Tourism
Goal: More fun than you can handle
Agency: MOB film
Medium: TV
The idea: Overload on fun
Thoughts:
So many thoughts and ideas for this final brief! I wanted to present one of the more bizarre ones. What if you just froze up with excitement in Vegas? They do call it the adult Disney world after all.
Feelings:
Presenting on a 70" tele was a first, skyping in the final presentation. Not ideal. First one up in the course and last one also, this idea didn't feel as strong as it could be and I would've liked to develop it further. Knackered and relieved to survive was definitely how I was really feeling at this stage!!
Final Submission: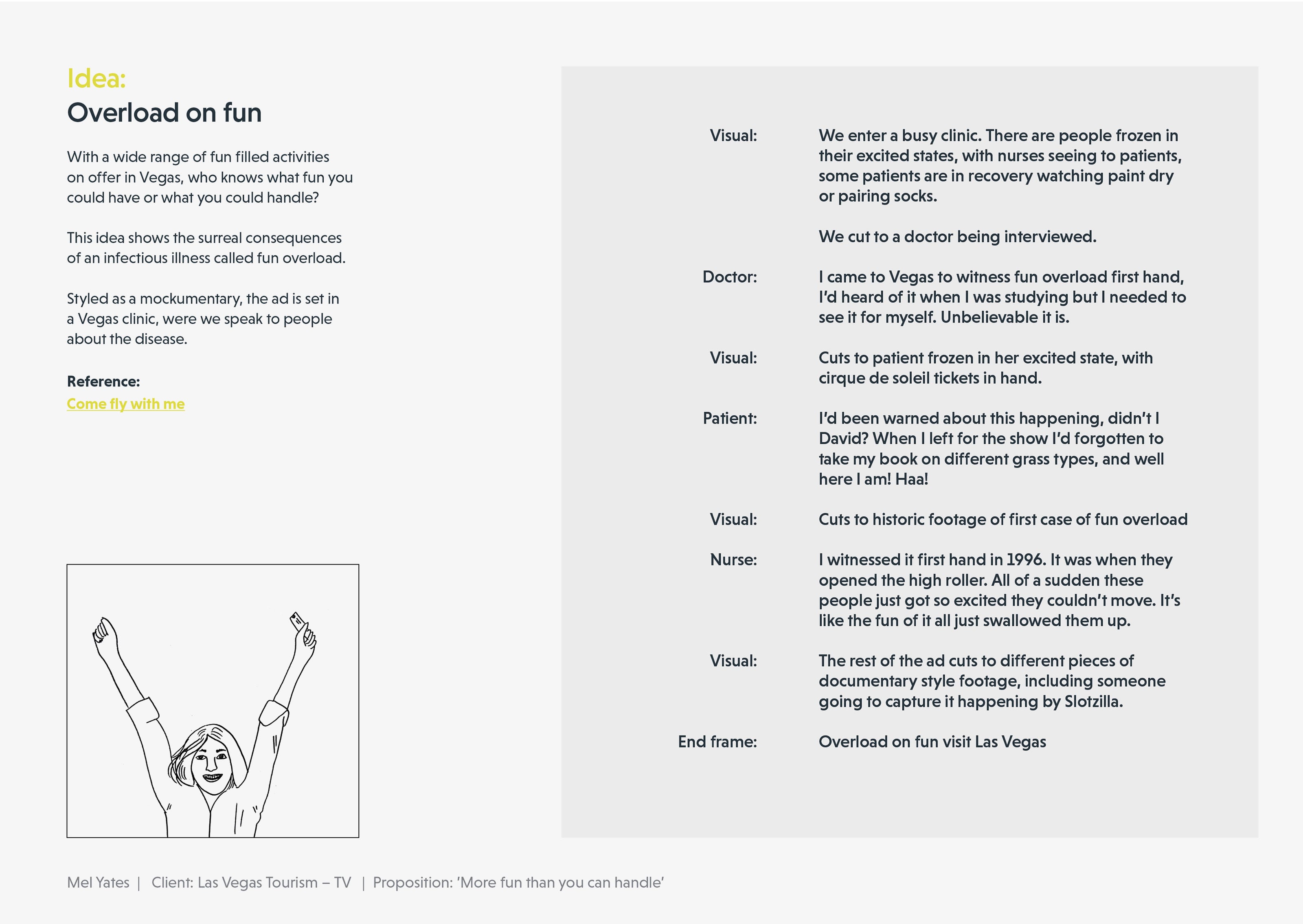 School's out!
At last, 1,728 ideas later. 12 Final submissions completed and group pitches presented, Phil Cookson announced the winner of 2018's class, glass of wine in hand, my name on the big screen, followed by a terrible acceptance speech and even more wine to be had.
It's very easy to sit back now after the process and say that it was worth the stress and tears (there was in fact tears). I've taken so much away from the course; I've learnt to present in front of a team of people who are judging my ideas, got to see the inside of 12 Manchester agencies but most importantly met some amazingly talented creatives, who's ideas I loved hearing week in week out!
Not to mention the two co-founders David Campbell and Phil Cookson, who have been championing the power of pen, paper and a great idea for the past 4 years! Cheers guys, it's been a blast! Bring on Cannes in June!!
School of thoughters: